World record attempt on Zwift today by Florian Neuschwander running at around 3.50/km
Sorry, I'm going to have to be a hard pass on this.
I don't think my heart could deal with the 6 hours of nerve-shredding tension and excitement.
I don't know what's worse - watching it or thinking about running a 100km on a treadmill (at any pace let alone 3:50/km)
I'll pass watching as well - thought it might interest a few on here
Isn't the outdoor world record 3:41/km ?
There was an invitational race a few weeks back, for the Hoka Carbon X release
https://www.watchathletics.com/article/11300/jim-walmsley-misses-100km-world-record-by-12-seconds
Indoor record seems "soft"



He's been running 3.5h and his Zwift avatar is standing there doing stretches. How annoying is that?
Kind of thing to tune in with 15 mins to go
Let's hope he's put some € in the meter.

he's showing an interesting technique if not… Or is that a way to cheat in zwift it just goes on belt speed maybe?
He's picked a flat course. I recognise that on Zwift.
Funnily enough the avatar was still going after he stopped running

oh the irony
If the speedo was correct he was shifting at the end

6hrs 26mins for 100km.
And, Adam Holland is running 100 miles today at a pace that is not much slower.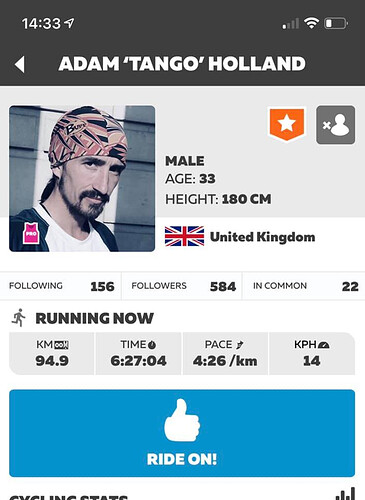 Madness.
After an hour I've had enough. Chapeau.
He does my nut in. Very talented fella, but irritating as hell.