+1
I'm not sure why you'd buy.
Dipping our toe in the water a week on Saturday, we've hired a T6 with an awning for 8 days. Probably heading to The Gower and then St Davids chasing waves. Any tips?
I WANT to do this so badly, but my wife keeps vetoing it. It is going to happen next year for a race. Just not decided yet. Biggest issue is the lack of toilet (for her, not me), but you just have dinner in a pub or restaurant and use their restroom.
Okay, truth is I have been speccing them up and would love to buy one.
Any advice for you? Enjoy!
Seriously considering a day van when we come to replace our current vehicle.
We're just about to add another pup to the pack, that'll be us up to 3 and possibly another one next year. No more holidays abroad, if the dogs don't go, we don't go.
Day van would suit us perfectly. If we stop overnight or longer, we'll use a tent or be booked in somewhere.
Did 5 days in Charmouth in ours a couple of weeks back, that's the longest we've stayed in it since we bought it last September. Weather was good, which makes the world of difference, but absolutely loved it. Campsite backed directly onto the beach, facilities were immaculate, electric hook-up and everything else we needed was within walking distance. My wife will not consider a chemical toilet in the van so we are tied to campsite facilities but so far that's not been an issue. If we start going further off the beaten track then it may be.
My son doesn't want to come with us anymore so there's acres of space for 2 with the pop-top and I think a camper dog maybe on the way. Just back from an all inclusive week in Kos and I can honestly say I enjoyed the van holiday more. Got a couple of back to back sprint Tris in a couple of weeks so intend to stay overnight after first (which has a bit of a party after it) and go straight to the 2nd in the morning. It's that flexibility I love, having the van on hand at a moment's notice or a whim.
if you want to do that then a bog, shower and ancillary power (via a solar panel to keep the batteries topped up) is pretty much essential. when we 1st got a motorhome we wouldn't crap in the bog - thinking about the messy clean up after kind of put us off, but over the years you get used to it and use bio tablets to break it down and keep it smelling fresh. sure, if there's other bogs available we use them 1st but when need must etc…
we're about to head off on a 5/6 week trip to the Balkans ending up in Greece, ferry back to Italy and then home. that will have a mix of campsites and wild camping (have to use sites in Croatia as it's illegal to wild). once you get into the motorhome/campervan way of life it opens up big possibilities on where you can go. next winter, Morocco is a possible and then head back to ski in the Pyrenees - another 6 week trip. I guess being retired also helps!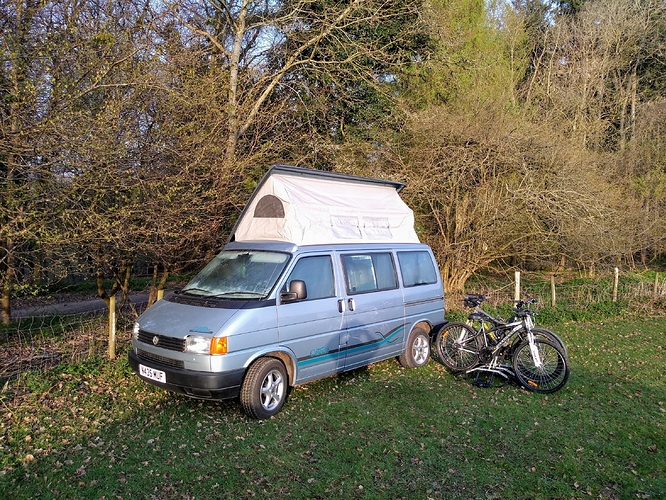 This is mine, we're not really considering abroad at the moment. Weekends away, races, festivals, superbikes etc is the plan. It's nearly 25 years old, I might want something newer for the kind of trips you're doing, and yes retirement would be ideal, I'm 50 next year so a little while yet.
nice van! we've often thought of getting a VW camper as an every day vehicle/weekend camper rather than break out the big one just for a night away which is what we do on a tri weekend. But that might be a bit of overkill and the big one may not get used that much which frankly would be a waste of our investment in it.
Excellent stuff everyone. One question, how practical is it to cook and wash up in the vans? I know they have the facilities in theory, just wondering in practice.
My sister-in-law really wants to get a mobile home, full-fat Fiat job. Her partner is dead against it, but she'll just buy it herself; we're egging her on, in the hope we could borrow it to tour around Scotland

We like to keep things simple. Whilst it sounds great to do a fry up every morning the smell and splatter from sausages, bacon etc just seems like a pain. We only intend camping for a few days at a time so we tend to stick to pot noodles/pasta, tins that can just be heated up. Combined with the odd meal out or takeaway that does us just fine and creates minimum work.
To answer your question, it's perfectly feasible, even our small van has an under slung water tank with an electric tap and 3 rings and a grill on the cooker, we just choose not to.
in a motorhome easy enough as we have the space and facilities - 3 ring gas hob and gas oven/grill. but you still tend to cook simple meals - 2 pots/pans max - to cut down on mess and washing up. we also heat water by gas or electric (if on hook up) and with up to 100 litres of water on board it's no great problem. we also eat out a fair bit on long trips.
Mrs Wheezy and I are hardened campers and are looking to get a camper in a few years' time, so this is a great thread. Thanks guys. Have any of you owned a T2? We'd love one but appreciate that they are overpriced for what they are. I'm pretty handy with a set of spanners but rather than a project I'd still want something that was reliable, so it would need to have been renovated. Looking at it realistically, I take it a T4 would be a better bet?
Stay away from T2s - IMO pretty to look at but they've had their time. Too old, you can't get parts and they are actually just a bit shit to drive
I went through a similar process and settled on a T4 but finding good ones of those isn't that easy any more. T2s are silly money (splitty or bay) and I think are more of s show piece these days rather than a useable vehicle on a regular basis. T25/T3 (brick/wedge) are still not too expensive (although they are creeping up and mint ones fetch big bucks) and can be usable but they are 40 years old now so rust is a big problem particularly the seems which is not cheap to fix.
I settled on a T4 (including looking at other makes) as the best compromise of price, age & reliability. There is a bit of scene tax with any VW but it's also the scene that keeps the parts, specialists and knowledge going which is a big help in keeping them running. I've had mine a year and it's been no trouble (an indicator relay & a rubber bush in the gear linkage - total <£10).
Spookily it's in for the MOT right now so I may be back to edit this post later on



This is the exact van that we are hiring. A bit restrictive in that it has no bike rack and no board rack (I will hire a surfboard, shudder). But they are 15mins drive from us and a lot of the little extras are included. We are hiring the awning, which should be endless entertainment for those watching us attempt to put it up.

A big plus for Mrs FP on this one is that it has Isofix for Little One.
Surely that's a big plus for you, too?
You know, your kids safety and all that?
Yeah of course (cough cough), wasn't distracted by the lack of board rack at all (ahem).





That 50 quid in the ashtray worked then