That floor and garage door is looking good!
Thanks. Just don't look at the walls or roof.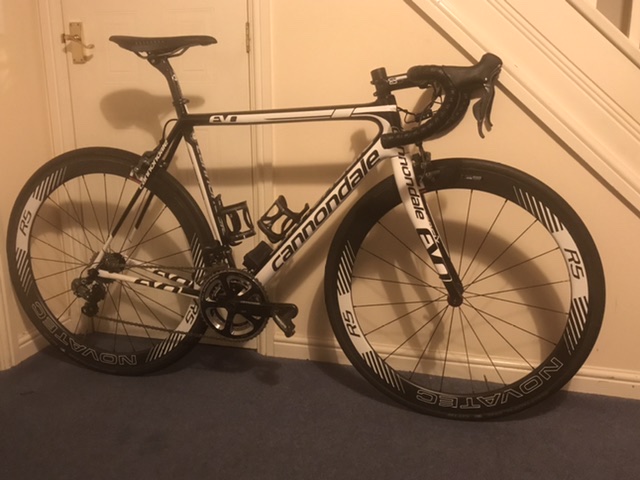 Nice. I like a good b/w contrast.
Not sport related (it's why the thread is in off topic, right?!) but just managed to pick up a Google Home Hub for £47

I knew black friday deals were starting today on them at £59, but the added bonus of B&Q price matching, meaning I could use my staff discount. Bosh!
Thanks @gingerbongo for the comments about them on a different thread
Summer bike - No mudguards
I just got a Frog 55 for my daughter. I'm cheap so it's an Ebay purchase.
Edit: I mean, I knew adult bikes had got more expensive, but is seems like any half decent kids bike is over £300 now!
Our daughter is just about to grow out of hers; good quality bikes, although the front v-brake has been a bit of a PITA. Our son gets it next, before going on the classifieds.
Lovely looking bike, but its too pristine to ride in the winter
How heavy
I'm a weight weenie and proud!
Incoming…!
That Islabike was £399. However, this is her third new Islabike and the numbers look like this:
Rothan £120 - sold 12mths later for £95
Cnoc 12 £265 - sold 20mths later for £200
They really hold their value.
They and Frog bikes do hold value better than most others. We made a cheeky 'best offer' for a Frog on ebay and got it for £55

Might need some touch up paint on a couple of scratches but at that price I'm not complaining.
Really like that.

Nah, half decent kids bikes have got much cheaper, there used to be almost no options and the only option was super expensive, now there's lots of options with some very good half decent ones available at good prices. It's the crap bikes that have disappeared, so the average price just looks like it's gone up.
The top of the ranges also haven't risen as much as the middle, so there's not many really good bikes either.
I bought a Frog road 58 for about £400 brand new, about 3 years ago. it lasted a year but i got £220 on ebay, not a great return really but. I then bought a road 70 on ebay, it was off the shelf quality for £160. took about 2 months of searching so you may have to hang around for the right bargain but you can get them. spent 6 months looking at track bikes for him and nothing coming up, i suppose track isn't the typical 10year olds hobby but the moda track i just bought i got 20% off on the moda site for black friday. My wife isn't a cyclist so doesn't really understand why he cant have a £50 halfrauds special.
I went down the 2nd hand Islabikes route, Cnoc 14, bought for £180, 2 years later sold for £180. Currently have a Benin 20 bought for £220, 2 years ago, will be selling soon and expect to get at least £200 for it. Both of these were bought as nearly new condition.
Youngest has a Cnoc 14 that he is not quite big enough for, paid £120 for it in well used condition…
Apparently when my daughter gets her first phone, she doesn't want one that anyone has owned before. Righto.
We'll hold out until secondary school; so about 18 months.
Rapha Core Rain Jacket.
Chartreuse in medium.
IN MEDIUM BRO!!!
Also, a pair of new swim jammers, in 32" waist.
THATS A 32" BRO!
Boom boom.
Samsung Tab A to use with my turbo trainer.
Has Ant+ built in which saves a bit of faff.