When you put it like that it kinda brings home how serious this is. I don't think your wrong.
Yup. This. Totally.
The financial fallout from this will be far, far reaching.
Agreed. This is going to be global financial carnage like we've never seen.
I've been stuck on hold now for ages trying to get through to my travel insurance. With the new FCO advice, my training camp is now unsurprisingly officially off. Spoken with the chairman of my tri club (who runs the business) and they've already incurred all their costs, so no chance of a refund. With how things are looking like developing, I need that £1k+. I will also want to understand if I can get a refund on my BA flights. BA are offering vouchers for all travellers, but what if you just want the cash back? I'll be losing my excess on the training camp fees anyway
YUP!
If you paid for it on a CC, just charge it back.
We call it the Ebola elbow!
Weird one there. They invoice via paypal, and I've read in the past that can invalidate CC insurance. Never had to claim before.
Also, do the CC company then just get that money back from the training camp people? Or do they effectively underwrite that risk to their own insurance? If the former, I don't want them to go under so would eat my £50 excess to claim off insurance.
Ultimately, whilst with my job I'm pretty comfortable with most things financial, I've only ever claimed on insurance once in my life, and never on travel. I don't actually know the sequences of events, or priority orders for what I can or should do.
Flights were bought direct with BA paid for direct on my Amex. If I don't want the BA vouchers, can I just ask Amex to give me the money back direct?
Training camp fees paid for via their website, which uses paypal invoicing. £100 deposit, and then the balancing payment. Again paid for on my Amex, via paypal.
Covid sitting strong in 6th place, all time thread responses.
Not far off 5th place. With the banning of swimming, that spot has got to be coming soon. Bit of a jump to 4th through 2nd.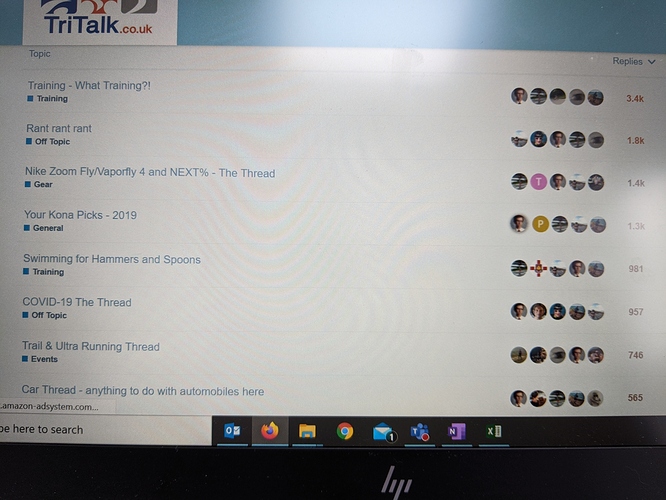 Fark. Unleaded down to 1.14/litre in the village!
France creating 300 billion euros out of thin air.
Amazing what can be done in an instant.
Sort of illustrates the lie of austerity (even if NI politicians billions etc didn't already prove that and the existence of magic money trees).
I am chuckling now that reportedly the tories are admitting that for a while they are likely to be running a Corbyn socialist government. Made my day.
It's sensible. Wonder how they will explain it away.
Grand national and all hunting cancelled
Something good always comes out of something bad.
Let's hope we get better races… next year !
A pair of trainers in 3rd place

and there's life left in that thread yet when Nike get their sweatshops going again

Ha ha !
That made me laugh !!!
Just topped up at £1.23/litre
Wow - chancellor giving out all sorts.
3 month mortgage holiday for anyone with COVID - that's a decent idea.
Santa Sunak.
This guy seems for real. Wow.
Some actual detail in the answers too.
In fairness to them, firstly they've got little choice, and secondly, the rules to which we've previously adhered no longer seem pertinent.
Personally, I'll think we should be nervous of all this government debt, but I think we should be even more nervous of the avalanche effect of businesses starting to fail.
The various Outlaw's look like they're on the ropes now too… not formally postponed, but a strong hint that its coming from OSB today.
It must be a fairly big sofa the chancellor has found that loose change in.