Probably very doubtful that Edmonton will go ahead in August… (world grand final)
very unlikely due to the lack of WTS events to give any true meaning to elite athlete rankings. for age groupers it's not so much of a problem as they will have already qualified via their NF programmes, but many will not have any active racing under their belts, or any decent exercise levels, to make racing their meaningful. plus will travel restrictions be lifted in time??
I had entered the Altriman Tri in the Pyrenees this July & they have just put out the following on their Facebook page.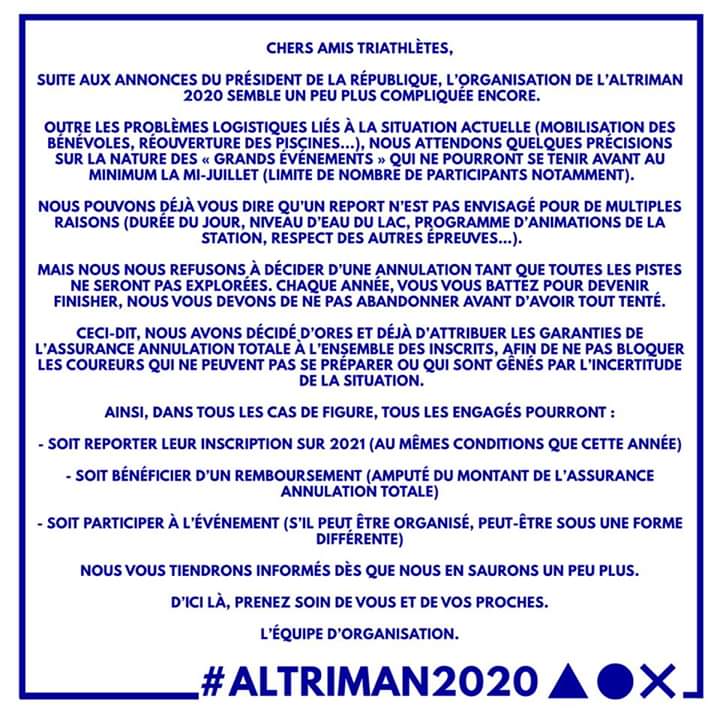 It looks like I have 3 very options.
Roll over entry to next year.

They will reimburse me my entry fee minus the amount of the cancellation insurance… this is very generous as I didn't take out the insurance.

If I get down there I can take part in whatever event they can rustle up.
Compared to some events these seem like cracking options to have & I'll have to sit down with my wife to see which I can take up.
At the moment - if it's possible - I'd like to still holiday in the area, do their ad hoc event & return in '21 to do the full.
Just shows - once again - how shit Ironman is treating people.
I think that will be the big problem as I suspect there will still be travel restrictions in place come July, especially if you are travelling to France from outside the country. Any one going to France currently must have a certificate to travel there with a valid reason for the travel - holiday isn't one of them.
It's a good offer from Altriman and if it were me, I'd go with option 2. Who knows how this virus matter plays out long term, so if all clears up OK and things are looking good for 2021 re-enter. If it doesn't at least you have the bulk of your money back and in the bank.
Yeah, with those options I'd be taking my money back. With Outlaw half, less than 50% refund made it a lot more easy of a decision just to take the free deferral. And I'm happy with that option. I'm hoping I can just largely transplant my 2020 race schedule onto 2021
LCW have refunded 50% but also announced half price priority entry for 2021. Seems like a good compromise.
Although from what I've seen on IMJ, Active are charging a 50% "processing fee" to administer the refunds. Which does seem a bit outrageous.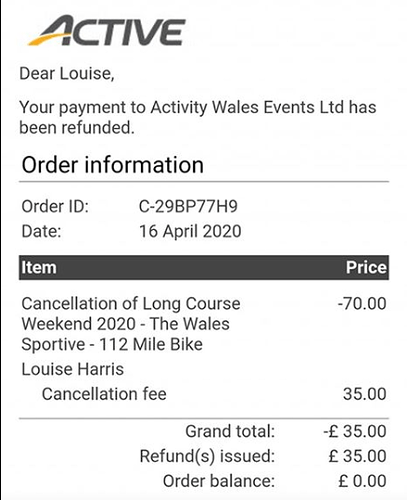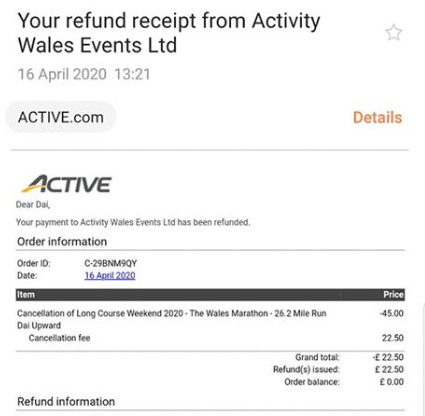 EDIT - although maybe seems like this "cancellation fee" is effectively equivalent to the 50% discount their giving for 2021. In which case, fair enough
LCW was £249 with an 18 quid processing fee. I've been refunded £124.50 (-249 + 124.50 cancellation fee). I'm guessing 2021 entry @ 50% will be £125 + 20 quid ish processing fee.
French local events have always been completely hassle free in terms of refunds or alternative options. Whether it be cancellation due to weather (ie. on the day cancellation) or something more severe (Nice terrorist attacks) there has been absolutely no hesitation to refund.
These have all been single organisations or club organised events. I've no idea how the federations setup their insurance to do this but they just get it sorted.
Having said that I entered the ironman france 5km last year which was cancelled because of the heat and also got my money back straight away. But I got the feeling that wasn't actually and Mdot event.
That looks like a nice race. But if they are starting to offer alternatives I'm not sure how UTMB think there race(s) will go ahead across several days with all the athletes and volunteers, just 5-6 weeks later.
Well quite - it was meant to be an independently run IM-distance race. The more I hear about other events doing at least partial refunds the more I start to wonder…
My running club has postponed an April race we organise. 400 entries, £12 each, all proceeds for charity.
Have decided no refunds but we aim to put on the same race in the Autumn, entries carried forward.
I'm not directly involved in organising the race, but to me that feels like a win-win. If just cancelled and refunded, the charity would get nothing, the club would be out of pocket, and no-one would get to race.
that sounds sensible to me… and lets face it, if you get arsey over a £12 refund for an event for charity, run by a local club, then you're a bit of a git!
Despite being sold room insurance for one of the US hotel rooms later on they've now rejected my claim saying it was taken out after the pandemic was declared.
Mis-sold anyone?
As luck would have it the hotel were a bit more honest than the insurance company and essentially closed and refunded anyway, which was good of them.
Trihard have a reasonable refunds policy, although TBF a lot of their events are fairly low key and on open roads etc., they've stopped entries for now of later races but waiting to see what happens before cancelling them. Except Day in the Lakes which is cancelled.
The main one of Stockton Duathlon is held with the local council so a lot of the risk would have been on them, e.g. the closed roads. They can't reschedule that but he's hoping to run the event elsewhere. The old Stokesley duathlon could be an option. Apparently their insurance doesn't cover this.
If the event that you entered has had to be cancelled because of government legislation made necessary by the outbreak of coronavirus then there are 4 options available to you. The default position will be option one if the event can be rescheduled to later this year or option 2 if not. Meaning that if you do nothing then this option will be presumed. If option one is your preferred option, you do not need to inform us. If option 1 does not apply to your event ie, it cannot be rescheduled to later this year then option 2 will automatically kick in and your entry will be transferred to the 2021 version. If neither of these options work for you then please inform us which of options 3 or 4 you would like us to implement.
The options are:-
Transfer of your entry to the rescheduling of the event entered in 2020 if that has been possible.
If option 1 does not apply to your event, then transfer your entry to the 2021 version of the event assuming government measures have been lifted by then.
Receive a 100% credit of your entry fee for use against entry for any Trihard event in 2021 or 2022.
Receive a 75% refund of your entry fee.
Regrettably the event cancellation insurance that we hold for our events does not cover the current pandemic situation. If it did then 100% refunds could have been made. Trihard Events do not qualify for any government assistance that has to date been announced.
Just realised I'm wrong about our club race. There is option of refund minus £1.10 full on sport fee
Its starting… Cannonball events went into admnistration this afternoon. Doubt very much they'll be last.
Sad, but i think there will be many more…
i am only staying afloat by putting money in each week…
We've just refunded everyone for our race in May and in all likelihood our July race will follow.
We're fortunate that we have very few overheads and a bit of a balance to dip into, our only real loss for the events will be the t-shirts that were all ordered up front with all our races on them.
Ps. The people who did our Duathlon in Feb may end up with a bit of a collectors item

Having read this, just been onto OSB website. They updated cancellations on 2 April…so WHERE WAS MY EMAIL FFS?