Looks nice

Hang on, maybe not, is that seaweed I can see?

Oh yeah, little bit of nori in there! It's got all sorts.


Mrs FT and I are the worst cooks in the world, but junior #2 is back from uni and quite into it.
Tonight he made us teriyaki salmon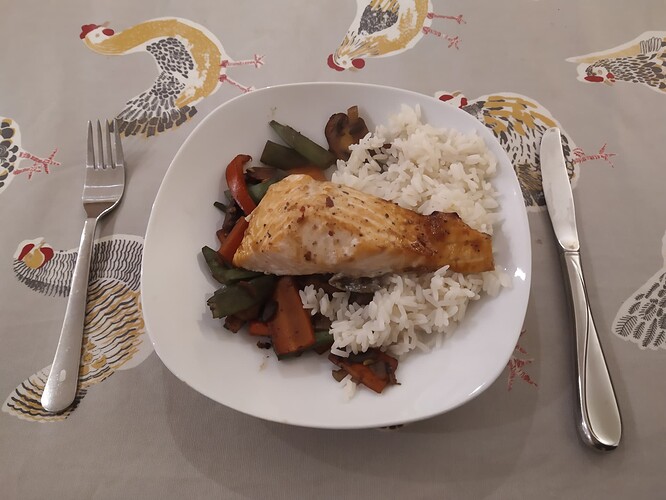 @magnacarter my kinda food - sounds delicious.
Like @fruit_thief, we're no chefs chez Doonhamer, but I popped down to the butcher yesterday to pick up a nice butterflied leg of lamb & this evening I hope to twist my parent's minds & make Lemon Lamb with Jewelled Couscous.
It's a Nadiya Hussain

recipe & looks like a technical dawdle, so what can go wrong?
(from 18mins in…)
My wife is making a big apple crumble for dessert in case my offering is inedible

got a really nice bit of pork shoulder in a covered pot in the oven….
Butterflied it this morning, and then rolled it back up with a filling of panko breadcrumbs, chopped parsley and rosemary, mixed in with parmesan and a bit of egg, and now baking for 5 hours at a low temp, with a pile of tomatoes and garlic to make a really rich ragu with….and will serve with homemade spaghetti latter… can't wait, and smells fab!
Tonight's special cooking treat….
really rich colcannon (with onions and Kale instead of cabbage), topped with smoked streaky bacon grilled until crispy, with a black pudding to the side, topped with a scallop… and a port reduction gravy…. really nice!
First time I've cooked scallops for myself…. so was a bit worried about turning them to rubber! (I didn't

)
Even used a serving ring for the colcannon to make it all look pretty…
Finished off with a home made roly-poly, with a home made mango and passion fruit jam filling…. (although did add bought vanilla ice-cream to go with it, so not entirely made from scratch!)
Now feeling both full and smug… and committed to stopping watching Masterchef and thus getting carried away… .

Mrs took me out for dinner to celebrate. Well, I told her to, then booked the restaurant and paid…
Anyway, a bone marrow burger and a roasted leg if lamb later, I'm totally stuffed.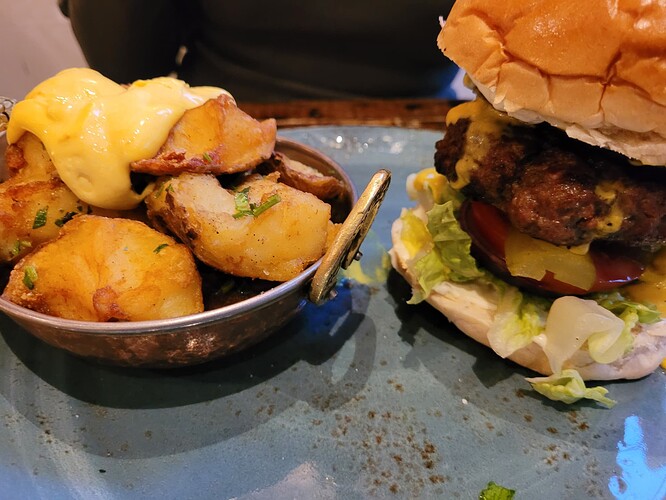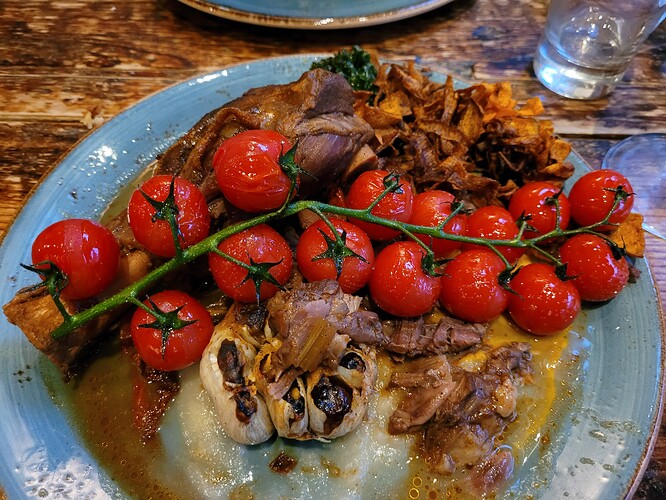 Was the aubergine pre-cooked or did it cook like that on the pizzia? Just asking as pizzas cook so quickly.
I fried the aubergine first.