Thought it best to start a new thread, as it was derailing the other one a bit!
I guess there's a difference between knowing the basics, and knowing the intricacies. I used to think pro cycling was boring, as I knew the basics about time gaps and points for the different jerseys, but it was only when I understood the in-race tactics that it really started to get intriguing and make me want to watch each and every stage of a grand tour.
American football is similar. It's often referred to as a physical version of chess. The coaches have more influence on the game than most sports. The players really are just pieces on a chess board. The tactics involved, once you understand them, are quite fascinating. And the complexity as a player is really hugely challenging and therefore rewarding. At the base level of the British game (if you said Worcester, whether than be the uni or adult team, they're both very much at the bottom of the pile), the sophistication is pretty basic. Refereeing one of those games will also likely be fairly dull. But at the top end of our sport domestically, you have a handful of teams "doing it properly". Efe Obada who played for the Panthers at the Tottenham stadium last week, came into the game through the London Warriors programme. He's now an NFL star.
Even UK playbooks get pretty complicated. Stealing a page from a playbook I was involved in at one point in time many years ago, this is just defining one element of run blocking schemes. Having to implement that in real time, against a dynamic opponent, who could shift his alignment at the last second, requires a very agile mind.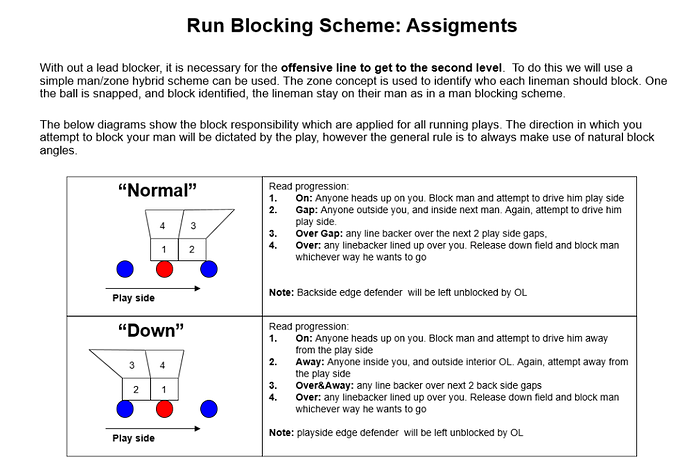 As to the former, very much yes. When I see a new physio now, and they ask about prior injuries, it takes half the session to list them all off. Just serious ones would be…
Broken collar bone
Left ACL rupture
Right MCL grade 2 tear
Broken right ankle
Broken right fibula
Numerous broken ribs and fingers
I "just" played WR. Mainly a nifty slot type guy, in the mould of Wes Welker / Julian Edelman / etc. Obviously nowhere near as good! I've never been the biggest physical specimen, so had to use on field "smarts" to make up for that.
I think the easiest push back to this is that Rugby is a contact sport, Football is a collision sport. I played rugby, so know the difference. I never broke or seriously hurt myself playing rugby (although I did only play scrum half!), but would come off every game feeling horrendous. I'd just ache all over, and be covered in stud marks from rucks etc. In American football, especially at WR, you can go whole games with little physical trauma. And then one crossing pattern, where a QB shafts you, and as the ball arrives up above your head, you get drilled in the ribs from the blindside by a safety travelling at full speed in the opposite direction, and just breathing hurts for a week. It's just a different type of game. The equipment makes the contact more extreme, which is why Football has such a concussion problem … the helmets give players a sense of invincibility. Plus the nature of the game. Rugby you just want to get a guy on the ground and start the next phase of play / ruck. In football, every inch matters. When you commence a tackle you don't want to let that offensive guy fall forward as it's extra yardage, so the hits are more foreful to try and drive people backwards. Because of this, the tackling technique is entirely different … in rugby you slide your head to the nearside, in football you put your head across the body. Again … concussion problems!
Sorry … a bit of an essay!