likewise - but just goes to show how diverse genres and tastes are these days.
one genre I cannot get on with is Rap (usually with a silent C) - does my head in
Oohh Porcelain. Classic song. Love that.
Will be firing that to the speaker later!
Most of these are in one of my turbo playlists, which I guess, tells its own story.
My Spotify year basically says:
You didn't go on holiday with your kids (so no shotgun, Lewis capaldi, greatest showman)
You didn't go running as much as you should…(so usual highlights from my ever extending "half marathon playlist" - snappy title eh?- not as much included as usual)
I listened to the new biffy clyro album a lot back when it was released.
I have narrow musical tastes cos despite listening to a hundred new artists I'm still basically limited to pop, rock, metal and punk.
As an aside I love drum n bass and rap, but listen to them more when running and again, i did fuck all…
Anybody else hold back a tear when it said "67 months of 2020?"
Any retrospective of this year and I crack up. No idea why. Think I might be suppressing a lot!!
My top 5 songs were that Biffy album!
Apparently I'm in their top 0.5% of listeners…
Shouldn't they be paying me?

Yeah still loving that album!
Did you rediscover Madvillainy this year or what?
Saw RTJ at Field Day a few years back.
Pretty good live.
You get an A*

I listened to 307 genres, so I do have eclectic tastes in music, but yes, I got back in to lyrical rap this year. My favourite song of the year is called Stir Crazy. It is about lock down and the lyrics crack me up. Madvillain Accordian is a fantastic song as well.
Lol, 306 genres for me. Need to find another…

I've just looked for mine and couldn't find it. Then realised I've not used my account all year and used my wife's on the Alexa
It's full of shit. She does love her 00's punk though!
And John Mayer ahem…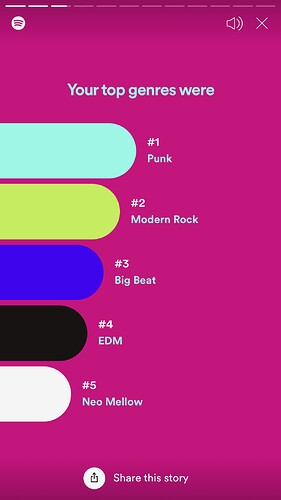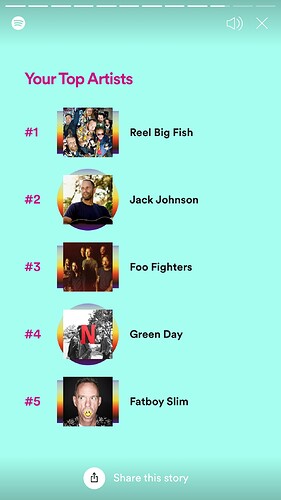 Love seeing what people listen to. Here's mine
Says microhouse my top genre

I'd say this year it's been a lot of electro. Anyone still use last.fm?
Finally got around to adding these…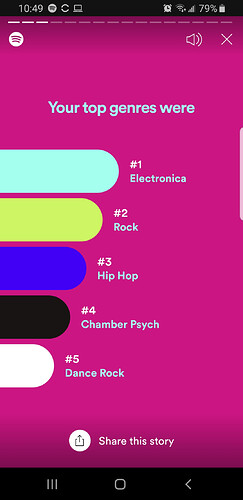 No idea what Chamber Psych is, let alone as a Genre!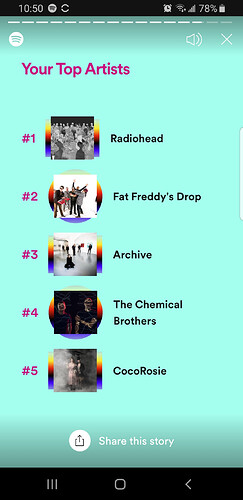 @FatPom
, as you can see I am quite into Archive, again, if you see him again, please encourage Dave Penney to tour over here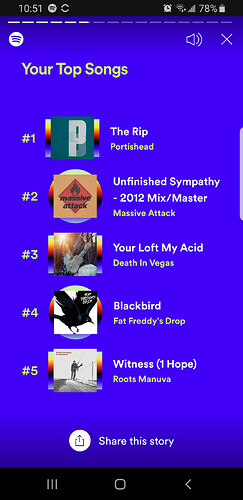 I am quite surprised by some of those being top!
Is liking FFD part of your visa requirements?!


I'm gonna have to dig them out today I reckon. Based on a True Story is stilly fave album by them.
Will do. I've seen him a couple of times since but we've been heading in opposite directions.
Good to see Radiohead on your list. I saw them twice on the OKC tour in Sydney but they didn't come to Oz on the Kid A tour, so I flew to the UK and saw them at Glasgow and Warrington.
As you can see I've got a fairly boring taste in music

, but I've never heard of half the stuff above and don't like rap, rnb etc, utter drivel but each to our own

Although I'm sure I've listened to others more but sometimes my phone plays from the music app.
I'm also very trigger happy and often fast forward songs.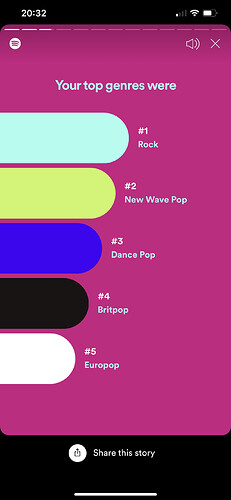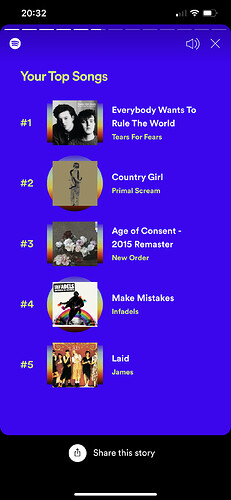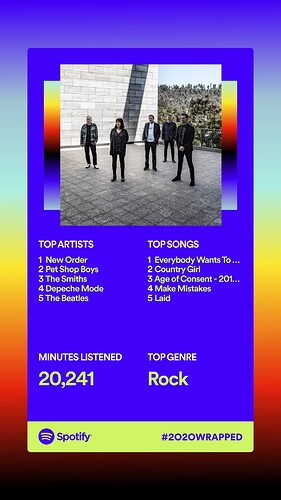 @gingerbongo - I had not listened to FFD to much before I got out here, but went to see them at an outdoor gig a couple of weeks before lockdown. Really very good. They are playing this year again, same day as my daughters birthday though and given last year she fell asleep during the second half it is going to be a tough sell for it to be her birthday sleepover!
@FatPom One of my favourite gigs was Radiohead playing in their hometown of Oxford, we camped near by, I pitched the tent very quickly and not correctly as it was beautiful weather and England (football/rugby (cant remember)) were on at the local pub. However the heavens opened about 30 minutes before they came on, didn't affect my enjoyment of the gig, the soaking tent however did affect my sleep!