Do you think the green fields talk to the single yellow field or does it get shunned?

Lots of Rapeseed fields around here; we need them with the War going on!
Rapeseed is canola isn't it? Do we get a lot from Russia then?
Probably more from Ukraine. I know there's a sunflower oil shortage at the mo, as lots comes from there,.
Ah I see. Loads of it grown in Somt, there was a lot around Winchester but more and more fields seem to be turning into solar farms.
Rapeseed oil is often sold as vegetable oil in the UK. Before Christmas I read a load of articles about making an "authentic takeaway curry" and they stated to use rapeseed oil but not the expensive labelled stuff, just regular check the ingredients in vegetable oil. They seem to be right, I've been checking and most vegetable oil is rapeseed.
Yep, vegetable oil is rapeseed.
Cold pressed rapeseed is very different, a lovely rich orange colour, although I tend only to use it occasionally.
As far as I can work out, 'canola' was invented to avoid using the word 'rape'
Canola is actually a specific "brand" of Rape, bred in the 60's or something to reduce some stuff (searching now it's "erucic acid from oil and glucosinolates from meal") given the limits on erucic acid in the EU is the same as north america, there's a good chance our Rape has just had the erucic acid processed away but I don't really know.
I was told about the canola / rape seed thing in New Zealand and did check in a supermarket that all products were canola. I don't recall ever seeing the word canola in the UK.
So maybe there's more than one thing going on that varies from country to country??
We use it for salad dressing - to good to waste for cooking
Newport Market food hall - how to reinvent a run down Victorian market in a run down city. Jobs a good un!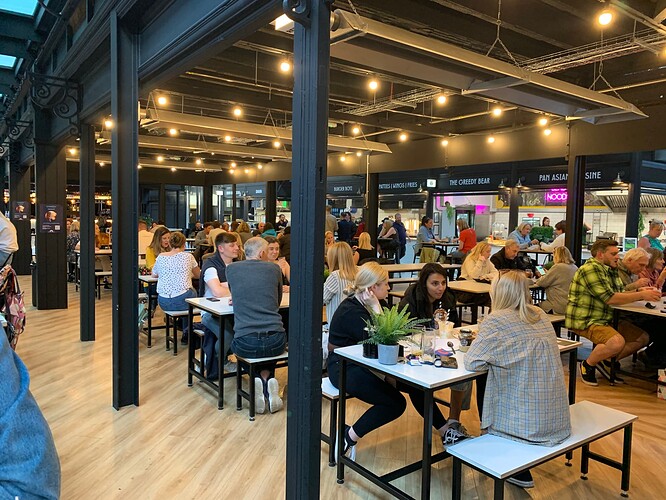 As I was passing, I thought I'd stop and see if I could see a baboon's arse. Nope, rarer than spotting a haggis apparently.