So from the IM Virtual thread @stenard raised the question of whether my results reflected reality which they don't but it got me wondering if they do reflect the perfect virtual world - eg perfect roads/tyres, zero elevation change, zero wind etc.
So I took a 20km section from IMCH2019 (19.65km +38m) to be exact which I did in torrential rain.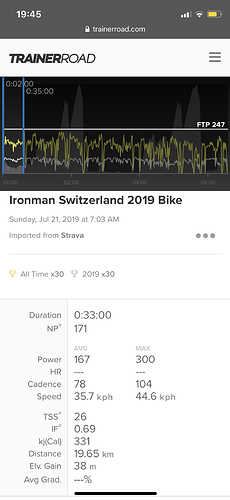 Then I went to the aeroweenie calculator and on the left put in my weight, zero gradient, the speed and power from the above section, then reduced the drag until my time reflected real world result, 0.221.
Next, on the righthand side I put ideal rolling resistance for my tyres, 0.00321 for GP5000 at 100psi, and my higher power from the virtual ride, showing in the ideal world I'd ride about 3.1kph faster.
Lastly I upped the distance to 90km, to give what I think on the left is my projected real world best, and on the right my virtual world best…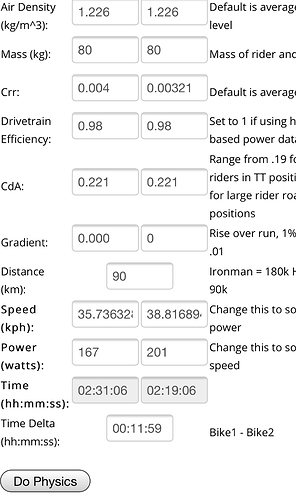 Does that make sense?
I understand that heavy rain increases rolling resistance as in my IMCH ride but can't find a site that says by how much.