Pinarello Dogma ex SKY DuraAce Di2 for €3000. Size 54
I love ex pro bikes, and have bought stuff from Cervelo Bigla team in Switzerland. There is a pretty big difference in size between the bikes. Personally I would go with the F10, used wheels are really cheap for rim brake bikes.
The K8 is a great price, but I'm not convinced about the need for rear suspension, just seems to add weight for little benefit
Both bike look pretty slammed, which may be an issue if you want a more relaxed position
4.5kg




Pair of wheels and tyres 1.5kg
Couple of cages and small tubeless saddle bag 400g
6.4kg for a bike



£4K after you've bought a charger.
Decent

I've actually just had my Ventoux hire bike upgraded from a Pinarello Prince to an F10 DA di2.
Got the email this morning!
My felt is lighter… I think ?!
Pity it's ancient … like me …!
And THATS why I can't sell my Ribble entry level TT bike…
Sorry @pcp hijacking this thread as the title is convenient!
As some of you know I'm on the hunt for a TT bike. Wondered if I could get some group input on a few bikes as and when I find them. Just to help me with not getting ripped off.
I've seen a 2016 11 speed 105 Giant Trinity Advanced for £1000.
Does that seem like the right ballpark? It's in Bournemouth, so would have to be worth it for me to travel 2+ hrs.
Thanks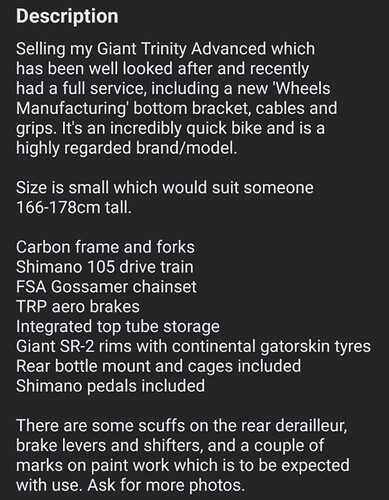 It's a Trinity.
SlipperyAF.
TRP Aero brakes, too

I think they're casting their new wide on sizing. They're saying a small fits someone from 166-178.
!2cm height in bike size terms is a bloody huge delta. I'd look up the geometry and see if it will fit on paper first at least.
My mate tried a small ribble to get aero, it was far too small…
I think he's the same height as you 5.11?
Have you got any pics?
Sounds alright to me. You'll have to buy a decent set of rims though. Can't go racing on PR2s and Gatorskins!
@leahnp has a Giant, might be worth asking what sizing is like for him, it was always a bit strange in that I'd need a small going on their sizing as well.
Without a bike fit you'd need to workout if its the right geometry for you. I'm on a medium Dolan and have had to stick a very long stem on because I have a long torso. Think a 56 may be better but too late now.
What bike have you got now? This is a great site for comparing frame sizes, you need to be looking at Stack & Reach comparisons.
I'm on a canyon endurace at the mo.
I'm only 5ft 8in (and a half!

).
I'll have to compromise somewhere to get a decent 2nd, so don't mind if it's not 'perfect' fit. Has to be better than my roadie with clip-ons from last year.
Thanks all
Small is good for you !
I'm five ft 8 and a quarter !
Thanks Jeff I'm 179cm tall and ride a large Giant Trinity 545mm seat tube length as I have an inseam of 84cm and long arms.
A great bike and good value as well
Thanks for the input. May investigate this one a little more seriously then…