Looks great

, are you staying sky side up now?
I did 5km up and downstream on the Severn in mine earlier in the week. I suspect yours cuts through the water considerably better than my breeze block. Up stream was fairly hard work, even with next to no flow.
Play boats are a bitch to paddle

Yeah, I'm a bit conflicted at the moment.
When paddling the other night my mind was wandering to nice streamlined touring SOTs or kayaks then I had to remind myself of the convenience.
The kayak stands on end just inside the shed door with the 2 piece paddle, spray deck and BA tucked inside. I lifted it out, put it on the reclined passenger seat of the Fox and was on the river in about 15mins, sofa to water.
At the moment convenience is winning and I keep telling myself how far I travel doesn't really matter, I enjoy being on the water and I'm getting a workout but we'll see if that changes over time.
I can only imagine @FatPom 's reaction to one of these heading for him in the surf. It looks like some kind of inflatable aircraft carrier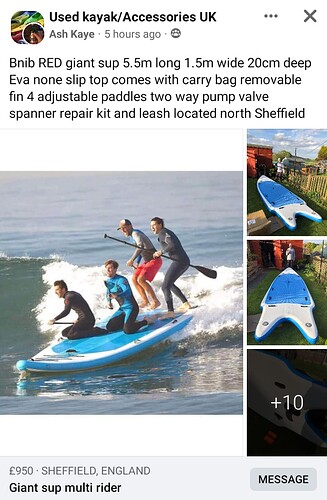 £950

I had a quick Google and couldn't find that specific one for sale new but RED multi person boards were £2/3K. However durable these inflatables are claimed to be, I just have a mental block with them developing leaks or punctures after a year or two.
You could get a really nice new kayak for 950, and it won't go pop.
I am reminded of why my club had stickers made that said 'North Narrabeen, Hates YOU'

First time kayaking in the sea. It was almost completely flat and after doing 6km east on Tuesday decided to head for Lyme (from Charmouth) yesterday and see how I got on.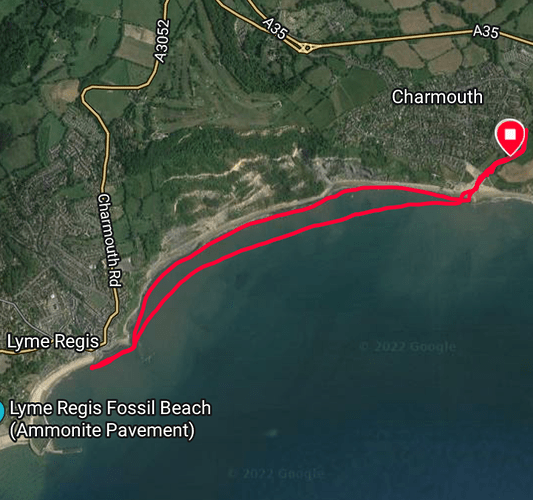 Wasn't sure I'd make it or get bored/tired and turn around halfway, otherwise I'd have stuck a fiver in my vest and had an ice-cream on the beach. Instead I just bobbed around for 5 minutes then paddled back. (5 miles in total with a bit of mucking about on the Char)
Ps. Do I qualify for some kind of record as the first man to do the round trip by bus and kayak in the same day🤔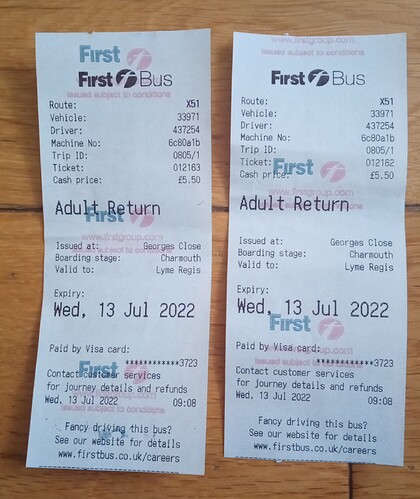 You did that in a play boat?! Fair play to you

I did 15k on a shipping canal (Sharpness) last Sunday; really nice paddle, but not the same as coastal.
Yeah, I took it steady but you don't get anything for free, it seems to pretty much stop between each paddle stroke.
I went east down to Golden Cap the day before but found coming back really hard work so decided to try the other way and that didn't seem so bad.
There's a company that runs those tours all the time called Original Wild; they always ply the most boring bit, apart from Pulteney Weir. Often see hen/stag dios on the river.