Patron state of shooting things
World ain't what it seems, is it Gunny
Just when I though that this thread was actually informative and helpful



Wind 3 quarter value, push 2 left. Fire at will.
im sure it will come back onto bikes some how… i have one with a carbon barrel?
Time to adapt, improvise & overcome .
My pride is an upgraded (Di2/Easton EC90 SL/GP5000TL) Venge Vias Disc and it's about 10% slower than my low-budget Winspace TT with slow rolling Tufo S33's on Zipp 1080 rims. Measured at near-same watts and similar conditions.
Sorry Spesh, but body position wins.
That said, the Venge is a bliss to ride and an incredibly versatile to do-it-all. But flat-out faster it is not.
My next and final bike will be a Titanium disc bike, with rack, pannier and under frame bottle mounts.
I want something I can go long on - as much as I hate riding for long distances, I love riding cobbles and off(ish) road on my road bikes and also want to go on an adventure (Derbyshire green lanes or some bridlepath thing)
I like my Ribble 725 much more than my BMC Roadmachine SLR. I think comfort it where it's at. Screw speed! I'm all about enjoyment

Safe to say I'm in a state of flux with my bikes and future choices the moment. On my easy run today, I was trudging through a 5km stretch of trail that would have been perfect for a gravel bike in summer, when the ground is hard. However today, that was not a terrain for a gravel bike or even a mtb.
Which got me thinking. I can't think of a better bike than a gravel bike for UK road riding (in general) but at the same time, can't think of a worse option for off road in the UK.
I think in the UK, the gravel bike is the most perfect bike for its unintended usage,

Long is okay, as long as it's not on a TT bike, and you don't worry about average speed.
I think that's where I went wrong on the 210km ride - chasing the 30kmh average (managed 29.8)
Save starting a new thread…
Seriously considering ordering the Canyon. Would be going for the Ultimate SL 8.0 Di2. Meets all my requirements, as I want interchangeable components with my TT, so di2 and alloy rim brakes. Whilst still being a massive upgrade from a 2014 Scott Speedster 20 (alu frame).
Anyway, with ordering online, I've been trying to compare to my last road bike fit (which to be honest was a long time ago!). The Canyon website suggests a small. Am I right in thinking the stack and reach are the key dimensions? They're the ones that determine how you feel on the bike right, whereas the other frame dimensions will more be about handling?
From reading online, it's the stack+ and reach+ dimensions that are the most important, as with the integrated cockpit, there's no scope to adjust the stem. And these dimensions are from BB to the end of the stem. Canyon list the following: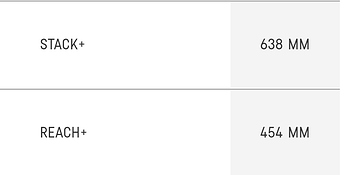 The retul report has the following:


Thats marginal right? A little bit lower and a little bit less stretched out seems fine for a non racing road bike. And we're talking a cm or under which I can't imagine I'd notice much?
Anything else that's key to consider when buying from online specs?
I'm also assuming Shimano BB72 will allow me to swap in my P2M crank that's currently in a 5700 series hollowtech 2 BB?
Thanks
Not and expert but I think the reach is the most important bit as it's so hard to modify. Of course stack is important as well because if it's not high enough the saddle to handle bar drop can be too big. But with integrated stems you often have little to no choice to reduce the reach.
Annoyingly for us larger types stack and reach go up equally whereas I need a large stack and smaller reach. Limits the options. My road bike the reach is too far. I probably should just change the stem to a 90mm one but I've just never bothered. My old TT bike my biker fitter took one look at it and said it's too small. We had to build up the front end with spacers which wasnt ideal. When I upgraded I had a pre purchase fit. There were only about 3 bikes that were suitable. Thankfully the P3 was one of them as that was what I wanted.
True. I guess you can also slightly tweak reach by manoeuvring the saddle a bit fore/aft? Maybe not ideal to do that for big adjustments, but to tweak slightly?
Unlike my TT bike fit, I'm less concerned about my relative rotation around the BB
Yes I have had to push my saddle to the max forward. Not sure if that impacts the hip angle as the cranks cant move.
Yeah, it does if you don't change the stack and reach. Which in a closed TT position I think is quite important. Hence the comment about relative rotation around the BB. But I can't see it being quite as important on a road bike, especially a more relaxed one not geared for pure speed/aero.
On the guru fit bike, you can set your ideal saddle height, find a comfortable stack/reach in relation to that saddle position, and then it can just rotate you around the BB maintaining all those relative dimensions to one another. Shame the fitter I used for TT's for the last few years has gone out of business.
I get a lot of these bits and pieces. What I have no real feel for is what the difference in those stack/reach dimensions I listed will actually "feel" like, and if I'll notice it/it will be a problem or not
For me on my road bike which has a too long reach it means my elbows are locked straight and it's hard to keep my back flat. So I get an ache in my lower back and elbows.
But it's not that bad, I've ridden over 15,000kms in total and many 4 hr+ rides on that bike and it's never got so bad I've done anything about it.
As you say TT fit is much more important.
Last year in Lanza on camp I hired a bike rather than take mine. That had a perfect stack reach and it did feel a lot more comfortable
I'm a Medium Canyon, and I'm 6' with arms like an Orangutan. You'll probably be a small.
If you wanted to change reach, they'll offer to swap out the integrated bars if you're not happy with their recommendation. Mine is the Endurace SLX btw.
I am 173 tall, 73.5 inside leg. I ride a Canyon Ultimate XS and it fits me perfectly. I like a Compact riding position, with arms bent on the drops, standing while climbing my knees are close to the bars, but rarely actually hit the bars.
It's a great all round bike, while a Cervelo R5 I built feels a little more hard core. Canyon is definitely more comfortable, both Canyon and Cervelo feel equally fast, while Cervelo has an edge climbing and descending
Thats what the size recommendation feature says, and what the stack / reach numbers I screenshotted are based upon.
Useful to know about the ability to swap. How do you go about doing that? As Chessington is easily rideable, can you just head down there to go through stuff with them? Let's for now consider normal times, not any covid related restrictions