Seems like they've applied to be struck off and call in the administrators.
That's in "Off Topic"
News about cycling retailers is "on topic"
So should be in "General" or "Gear"

There are rules here, dammit


Slightly off track (so bollocking expected) @Poet - Service Course Wilmslow just announced closing as well. I haven't had a coffee there for a few months, so can't call myself a regular, but was a nice bike cafe. Did one of their gravel rides which was great. This not long after Apus Peak in Knutsford as well.
No, I live just behind there -
Bought some coffee beans today

Where've you seen this?
Edit; Facebook


Seen it on our club group now.
Apus Peak was an odd one … their food offering was "unique" to say the least. Plus, being there and not allowing dogs inside wasn't going to be a recipe for success.
That was the classic "I like cycling and cyclists like coffee shops so we'll open a space". Funded by the husbands dads construction business and not realising the actual reality of it. A classic bike shop failing of the 21st century. They sunk themselves into a fair bit of debt too.
The email from Service Course just landed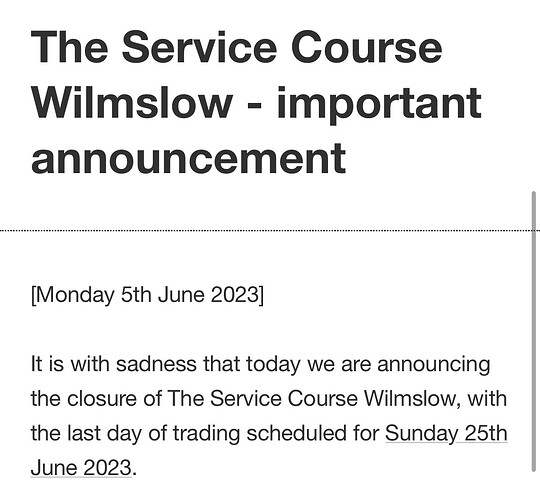 Not sure if this household is going to dodge this industry collapse.
How come PlanetX are sending out pre-order emails for a new bike?
Think they got a bail out/buy out.

Wonder what direction this Special Situations investor will take them to.
iSUPs

It was a pre-pack administration.
surprised madison didn't buy them…
Well they've made quite a few redundant as a start.
So the 33 job's haven't been saved as per the article above?
I can't say it surprises me. If you buy a business that is failing you don't just carry on as before
Sorry not read the article but a mates son works there & he's redundant with a bunch of others. Maybe the save jobs are the folks that are retained.