My partner is doing it with his colleagues at Trek Wilmslow.
(I'll leave him to it, rubbish weather predicted)
We're going to be on Zwift for ours.
We won the Red Bull timelapse in the mixed cat after 25 hours by 1 mile!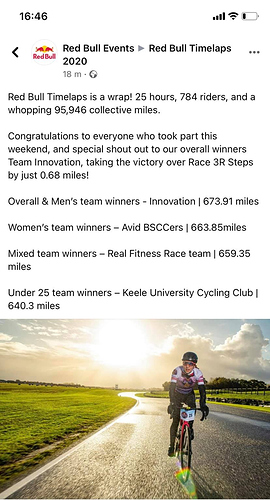 That was tough, it's basically like doing 30min FTP tests continuously with 90min or so breaks in between. A couple of hours after the finish I felt ill, I think the body holds it together when needed but after chucks the towel in.
Anyone want 24 cans of Red Bull haha.
Well done!!
Your schedule looked grim too. Must have been tough to motivate you at those times

Hell Yeah, nice one!!
So what was the premise of this one then @doka? A team of x riders, doing 30 min shifts on zwift. Total cumulative miles win? Was the zwift course your decision? Did you have to log into a specific event/route?
I need the details (when your mind has recovered).
Well done though dude (and team)!
Thanks, you end up pushing yourself really. Set a benchmark of 13 miles in the 1st 30min stint then just tried to match it thereafter.
Tried to do some events which didn't always go so well, one ended up being a hilly TT race doh.
Ah, so you could choose what you wanted? I suppose doing 30 minutes shifts of tick tock - tempus fugit would have got dull quickly
A number of groups from our club has done the real thing the last few years. I think we even had someone do it solo. The real thing is a bit more tactical, given that you can only handover at the end of full laps, and the power hour uses a separate smaller lap, and only full laps completed in the hour score double distance.
Something I've always been tempted by, but never had a chance to join a team
Cheers GB. Very little rules other than don't cheat or take the piss like only going only downhill or something. Not limited to Zwift, anything that transfers to Strava is fine.
I made this timetable: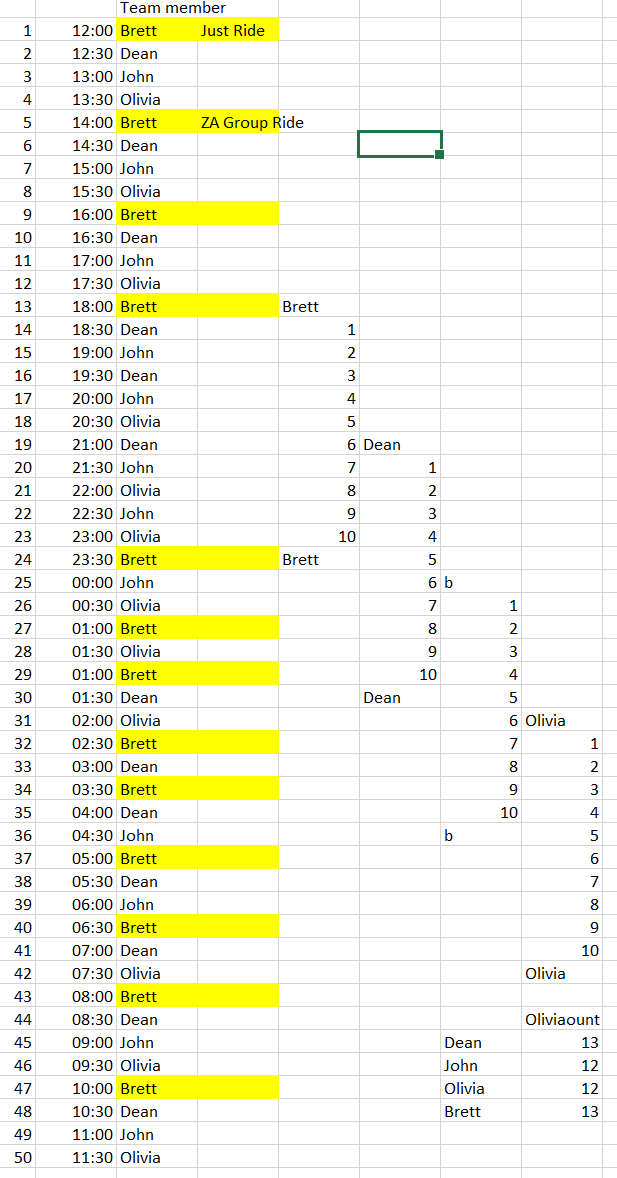 30min stints but worked around giving everyone a 5 hour sleep break in the middle. 1-2 after the clocks go back is power hour where mileage is doubled.
I tried a bit of everything, Tempus Fugit (basically flat) was usually the fastest & most reliable and disappointingly was faster on a road bike than a TT bike. Did some races but often not many on them & they strung out so the hilly course made it slower if there wasn't much draft available. I did a long stint on the 3R100 group ride as there was a good draft for the effort so we had to rearrange the timetable following that.
If we were nowhere on the results then I think we would have gone more for 'fun' but as we were continuously swapping for the lead with another team when the Strava upload went in we were motivated to go balls out on every stint. It was quite an experience, we were 2 teams linked by Zoom so plenty of support & encouragement.
We are targeting doing the RAAM in 2022 so looking for these type of events for experience. Making the most out of the Zwift platform made for most of the tactics here, I can't speak for the other teams but we hardly gave this any thought before & it was more just about taking part but we have much more experience now. I guess this won't happen again (I hope) as this is usually a proper real life event but these are strange times. If it were always virtual it could easily be abused but then your only cheating yourself & are not big prizes on offer.
The regular TTTers on here would have made a very competitive team.
Never heard of this before … but now i'm thinking "would Mrs GB give the thumbs up for a week away for my 40th with a couple of mates?!"
Well done.
But! Having seen my partner and his mates struggle through wind, rain, sleet and everything else outside I do feel they should've split the rankings.
Anyway, all in the name of fun innit.