Is a 12sec positive split really going off too fast. Sounds pretty optimum to me!
Erm dunno Buzz. I just felt with that 12 secs plus the stationary start then I'm a bit heavy on lap 1. I assumed a negative split was the way to go. Say, still pretty happy considering non official stuff I've gone off like a tw@t and died very early.
I was a dnf at yesterday's Hounslow 100 and I'm never riding that course again. After 60 miles I had to stop anyway as the road was so bumpy one of my bar end gear shifters came loose But by then I'd pretty much decided to pack anyway so it was a welcome excuse. The surface is no worse then when I've ridden it before but I just CBA to stick it out for another 90 mins. Also paced it really badly and went out too hard into the wind and was fighting with my front wheel all day. Was delighted to climb off. Did a little brick run afterwards, so not entirely wasted, but not what was planned.
I don't really blame you for the DNF wheezy, when the roads are that bad they are half the challenge and it's much harder to get comfortable with all the vibrations.
Still, 60 miles at a decent pace wasn't a bad workout.
Jeff
I also did the Hounslow 100 and struggled to a 4:18.
Life got a bit hectic on Saturday with a family hospital visit and I never got round to swapping aero bar pads for the double thickness ones I have, and to be honest head was not really in the game. Saturday was lovely weatherwise but overnight it got cool, breezy and seemed a slow day (although you always wonder when some guys ride sub 3:40).
Roads were horrible in that 2-3 mile section heading out to Chawston (?), but I bashed out a reasonable 90 miles at about 10w below what I rode 100's at last year, which does reflect where my training's at, then fell apart (not enough long rides).
Good workout and a decent measure of where I'm at, hope for a better day, a better ride and will definitely get better roads for the E2/100 in late june.
PS I did a 12 hour on that course back in 2014, and my arse has only just forgiven me…
Nice work TRO and bad luck Wheezy, fair play doing 100s, can't quite get my head around that kind of punishment

Been ticking over on the TTs, did a sporting 13 and a bit miles a couple of weeks back, probably my best executed ride, slight negative split with second lap being 4 sec quicker than first, and made back a lot of time on the rest of the riders to get 2nd. Power meter really came in handy on the course as the first half of the lap is a gradually steepening false flat. Averaged about 38kmh which wasn't too bad given it was a slow evening.
We had a club event on the H10/8 down at Bentley on Saturday morning, pretty good conditions, with a slight headwind on the out leg.
Forgot to swap my power meter over to the TT bike so had to ride this to RPE which is a good learning experience; ended up going a bit too hard on the first half. Felt comfortable until about 3-4 mins in then the breathing was getting hard and realized I'd probably overcooked it already! Died a thousand deaths coming back but luckily it's net downhill with a tailwind so the speed was at least masking the lack of power I was no doubt putting out

Finished in 22:40 which is 4secs slower than my PB same course last year so not a disaster by any stretch, although last year's ride was also badly paced so reckon I could get a low-ish 22 on this course if I rode it well. Doing another 10 tonight - think I've caught the TT'ing bug.
Poet 04/05/2019 M&DTTA Open 25 J4/8 1:00:42 ??:??
Poet 30/04/2019 A45RC 10 NX12/10 25:15 23:25
PhilleusPhogg 30/04/19 Epsom CC 10 G10/42 23:42 23:12
PhilleusPhogg 25/05/19 Epsom CC 10 H10/8 22:40 21:12
Wheezy 06/04/19 KPRC Open 10 G10/42 24:58 21:27
La Marquise 23/4/19 Crowfield IDCA 10 33:30
TRO Saracen 16/5/19 Open B10/3b 10 22:48 20:47
MW22 23/05/2019 VCLE AS21/C 25:06 23:44
Nice one TRO. Shame not to be able to put a face to the TT name; next time! Yeah, did the National 12 on this course last year and got through it ok, but I didn't have the right attitude upstairs. Also was fighting the front wheel as the wind got up and had a couple of interesting orbits of the Farnham rbt. Had my shifter not fallen out I might have kept going but my heart wasn't in it. Trying to decide whether to go to the E2 in June. Would be a very early start but would be good to get a 100 done on a faster course.
DNFd my 50TT on Saturday PM.
Held up at 20 and 40 minutes behind HGVs waiting to pass slower riders…
…then exiting onto the only DC part of the course to approach the first of two RABs, a Morrison's HGV (heading into their distribution centre) comes straight over, which annoyed me, but they then swung into the left hand lane to turn right, nearly taking me out in the process.
After that, my head wasn't in it, so I soft pedalled the five miles back to HQ.
63 minute 25, which was a proverbial piece of cake.
Really annoyed not to finish, as I'd done a whole pre-race ritual, too

Here's the obligatory shot of my bike in triathlon mode
(Round bottle on down tube has now been replaced with an Elite aero one)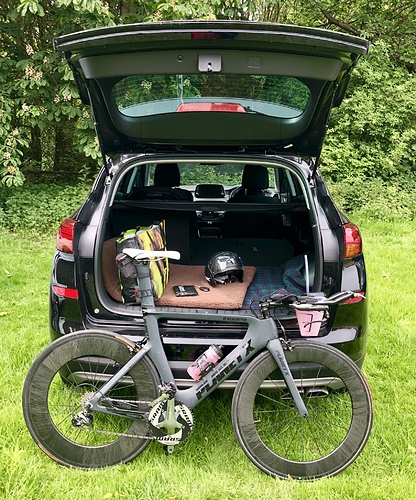 I like your tartan blanket
For the dog - added bonus of becoming a seat protector for the bike

The front sprocket looks a beast, how many teeth?
It's a 55/42.
Rear cassette is a 23-11, but I rarely go below 14.
Remember, those 11/12T cogs cause a huge amount of friction and put loads of stress on the chain.
Much better to keep in the middle of the cassette at your natural cadence (88-92 for me)
Also, it's flat enough here for me solely to have the 42 to get the wheel on and off

The Planet X of the car world

The exhaust was the only clue, quite distinctive.
We are fully Subaru'd here now. Outback and my old ltd edition Legacy Q car. Our recent 5 Series was a P.O.S.
Chose it by numbers;
BIK %
MPG
Boot space
Fold flat split seats.
If the child seat wasn't in, the TT bike fits without taking off any wheels.
Qashqai ruled out due to it being the ultimate caravan tower.
Mazda CX-5 felt cheapAF.
Kia Sportage didn't seem as roomy inside.
Seat Ateca didn't have as much headroom.
Skoda Kodiaq was over-complicated.
The Tiguan is quite plasticky (for the MPG I wanted, the S-Line version was nice)
I liked the Forester, my wife didn't.
Anyway, you should start another "What Car?" Thread in Off-Topic

I had a brand new Volvo v60 on holiday and i bloody loved it! I'm officially old now, as i would more than happily (if i had the money!!!) trade in and buy one of those right now. It's on my 3 year plan!
All about the #DadLife
Anyway…time trials…
Front ring?
In TT mode I go 1x, with a 58 at the front. But the 55-42 will be back on before IM Wales…and the 28/11…
Do you take off the front mech, cable, shifter and inner ring for each TT?
You are at the very pointy end, but that's extreme!