Sadly it's not binary. I was knee deep in snow today and sweating 'profusely'. I'm with FP on this one

Cap being doffed in the direction of the Shields, guessing a couple, could be brother sister I suppose. Hell of a week away together

That'll test the friendship!
Husband and wife I think.
Any recommendations for a lightweight hydration vest for long runs?
Just needs to be big enough for a couple of soft flasks on the front, then pockets for a mobile phone a bit of food and a few gels.
I'm sure there was a thread somewhere, I'll have a look.
I've got Decathlon jobber, @gingerbongo & @jeffb have Osprey ones.
I'd look at Harrier nowadays.
ETA (1)…found it, it's quite an old thread.
ETA (2)…5ltrs is perfect size for a couple of softflasks, waterproofs, hat/gloves, phone & a bit of grub
I'll be looking at Harrier when I need to replace mine too. I've got Salomon and Ultimate Direction vests, both do the job well enough with a slight preference to the Salomon.
Yes, Osprey Duro for me and GB I think.
I like it but it's got a fair bit of storage that I need for long fell race kit and ultras.
Harrier 5l is great bang for buck and also check out Aonjie (sp) seen a few people with them. I think they are cheap as chips compared to others.
There are some 2l options out there as well.
Thank guys will have a Google of those.
Just want something as lightweight as I can with not much at the back to stop any extra heat build up.
Hopefully one of the recommendations will be right

Salomon have a very lightweight one which holds 2x500ml flasks. I use it for longer road runs and it's great. The decathlon version is very similar. I will attempt to find the link for it.
Found this one and looks pretty good for the price in the sale and has good reviews and also like the look of the Harrier 5lt.
If my maths are correct, it's 15wks today until TP100. As I said before, the likelihood of me achieving a Grand Slam is pretty minimal, so putting all my ultra eggs in the TP100 and Endure24 basket. (maybe some other shorter stuff at the ed of the year).
Injuries have been very frustrating but just starting to put something like consistency together now. Just completed a week of 47km running and 2 x 3km walks. Last week was 42km run/walk.
Not sure if the hip is ok, hopefully will find out as volume increases. Calf seems ok, as long as the pace is low. I'm definitely erring on the side of caution. I think 'brisk' walking will feature in much more of training for TP100 and given that it's flat (so I'm told?). it's probably a decent tactic anyway.
I need to re-jig my plan because Brighton Marathon is out now. I'm missing speedwork but need more confidence in my body before push that.
Slow and steady, make the cut offs is my only plan right now. Just hope I have enough time in 15wks!
Unless you are going to be at the very pointy end of a 100 then walks are always going to have to be a part of the strategy.
Practice running with your full kit - makes a subtle difference - when out walking put some weights in a rucksack/wear a weight vest?
Here is the course profile from one of the times I did it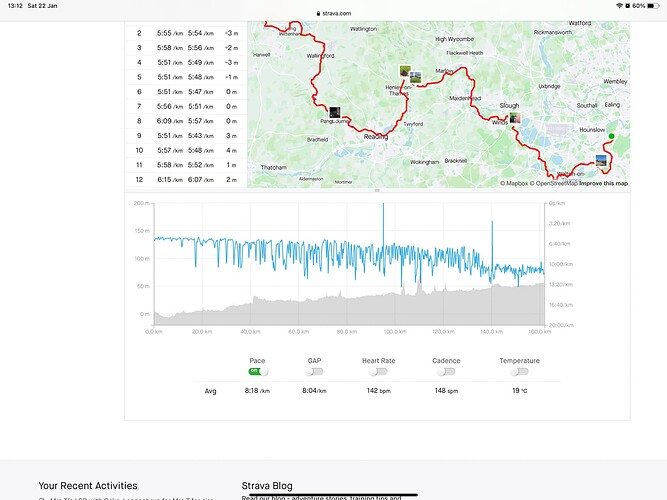 No hills to speak of until you get to 100 and then 110km - all of the other lumps and bumps are bridges which are surprisingly hard the further you get into this course. The hill at 110 km comes just after Wallingford - the hill I just walk. It's the downhill after that is hard (beware the steps section

).
A lot of people think the TP is easy due to the lack of hills but the unrelenting flatness makes you use the same muscles all the time and that is hard!
This is a brilliant website for calculating timings and targets I have found
Works out times including natural pace drop offs during the race
cheers @tunster, really useful

agree with @tunster . Using the same muscles all the time , really takes it out of you . I did a fair bit of walking the first time I did it and managed a sub 24 hours but that was 10 years ago . I tend to do a 25 min run 5 min walk to take on food/liquids as I know 15+ hours in I tend to lose my appetite.
Can you believe its only 1.5 weeks till I fly to Costa Rica for the coastal challenge . Training has been so so , its so hard getting up and running when it's so cold . Motivation has been 50/50 . I didn't really lose any weight (dam you Christmas) . So I am probably at my heaviest ever, no bikini body for me . But on a plus - I am nearly 51 and feel relatively healthy , and can run . As long as I can finish each day in that heat and humidly then I will be happy . Oh and I am being very anti social as I don't want to catch anything before I fly if I can help it…
I agree @p00key - despite doing plenty of these events I still struggle with taking calls on board during the race and always pay for it towards the end
Good luck in the jungle - look forward to hearing all about it