LCB is on the start list Leeds
She's no where near fast enough.
All feels a bit Lionel to me - or she's bored and just wants to try stuff; that 1500 swim qualifier, this (to develop run speed?), she also popped up at a TT back in April.
Bored with not racing?
Or her new career choice of triathlon?
Pretty soon to be bored with long distance Tri!
She posted this earlier, not sure if it refers to Leeds or something else on the horizon.
I guess I'm a bit old and out of date but it all seems a bit too soshalmeeja to me, Ryf just rocks up to races and beasts everyone.
Could she get any more #tags on there?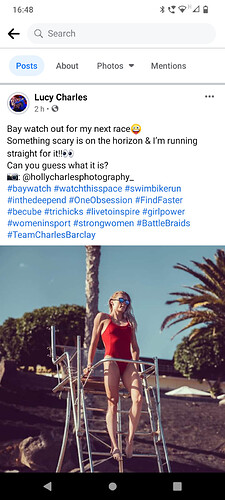 That's how you make a buck these days though isn't it

pretty stacked fields in both Mens and Womens events at Leeds - quite a lot of Tokyo selections still to be settled so everyone wants in.
Interestingly, both Brownlees and Bishop are on the start list for the World Cup event in Arzachena (Italy) this weekend, but no GB females
It'll be interesting to see. She can obviously swim with them. I'd guess she can probably bike with them, if her handling/drafting is up to it. But you would think she'd get left well behind on the run. However, the SLT Arena stuff indicated she could mix it up with them, albeit over 1k rather than 10, and on a treadmill rather than the road.
This!
Well Learmonth is on the list (what about Duffy?) so half a chance of a bike break. If Haug can run here down in an ironman you have to assume the top runners in WTCS can too, but if she has a head start, could be good to watch. I know she had the penalty in Miami, but did Stinson outrun her?
I think if she hadn't had the penalty, hadn't fallen over, and not messed up taking the penalty…then time-wise it would have been pretty close. On the other hand, would she have quit on the run if she hadn't had all these set backs?

It's nice to have her in the mix, keen to see any of the Brits do well but I like these experiments - if nothing else it ends the "what if" discussions.
The biggest question for me is how she'll cope in draft cycling……
The dead turns on the bike, they don't have them on Zwift.
She has said that this year was all about doing different stuff and mixing it up/getting some hard racing experience. I think she'll be seeing it as more prep for future long stuff rather than the number 1 focus to be truly competitive (although she'll give it a good go!)
Good luck to her, I wonder if its also a way to make sure she's got access to facilities, support staff etc going forward, help out BTF in swimming terms, to push the other ladies and get in the "circle" and if we have another winter like last year she'll be Ok. or if shes looked at some advice and thought, I need to build speed over shorter stuff , or if its just as simple as "I love racing and will do more of it" In the good old days they all "multitasked" as it was for the thrill or racing , not "likes"
I think missing out on the Olympics still bugs, she has said she would quite like a stab at Paris '24, and that doing shorter stuff can only enhance and elongate her IM career. In the scheme of things she went long very young and if she intends to race into her late 30s, that's a lot of IM races.
But the cynic in me also thinks it's also for a bit of publicity. Nothing wrong with that, she is a very marketable athlete and if she can broaden her market outside of IM, then go for it.
There's bound to be an element of that, but I think she's genuinely trying to find her best opportunities to excel.
She's obviously a top athlete and enjoys racing - what's the big deal about competing in different distances and pushing herself as much as possible. Surely everyone does (amateurs and pros)!? If she decided to enter a local fell race or a wheelbarrow race then fair play!