My takeaway from this is eat a massive pizza, lose weight.
Got it.
Glad wasn't calorie counting yesterday. Made a huge and super-cheesy fish pie for 4 people, in a lasagne tray, and then proceeded to demolish three quarters of it myself.
Here's the recipe, just with triple the cheese:
Knew that sure as night follows day I would not be able to resist wolfing the whole tray, I find fish pie like catnip to a cat. Feel pretty bloated today though.
I agree with you, that recipe does seem strangely lacking in cheese

I put cheese in the sauce, mash some into the potato & top with a generous amount cheese.
88.5 but there is absolutely nothing in my stomach now, so reckon I was over 90kg
I've been living in a tent and a van for most of the week. Honestly, you don't want to know what I've been fuelling on

86.7, my appetite has not returned since being ill.
Average weight (kg) in last 10 years
2012 89
2013 86
2014 86
2015 82
2016 75
2017 77
2018 71
2019 72
2020 74
2021 75
2022 75
I'd like to be around 73 but eating a big bar of chocolate at 2:30pm doesn't help!
I'm not helping by posting picture of food am I?
So there's my almost empty plate this morning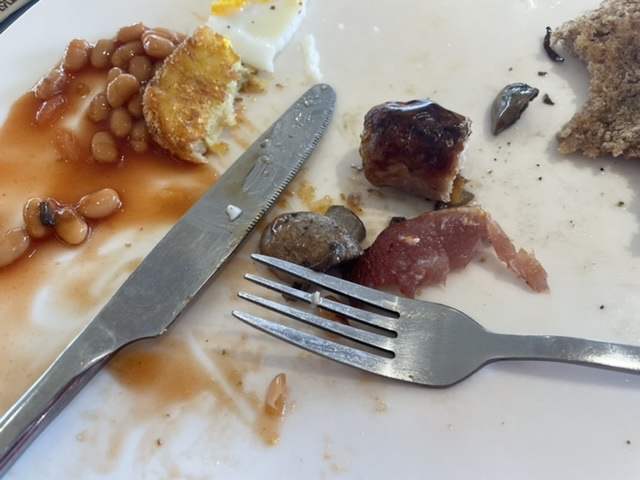 This didn't get enough likes …
Horrible grumpy old triatherletes!
I'm feeling wonderfully light at the moment


Never down the weigh thing. Just pinch myself. Certain spots - you know if it's getting a bit thick. Admittedly as you get older you have to adjust your pinchonometer
The best part is as you get older, your near vision suffers. so you can't see it anyway.

79.0kg. -1.4kg.

71.5kg
Up from yesterdays post 3.5 hr run weight of 70.5 - need to work on my hydration🙄
Keep piling it on until next June mate

77.5
Was hoping for less !
I'd say the opposite! 1kg is only 250g of glycogen gone, and you should have 500g, so there's another kg of water you could've lost on the run without it changing your hydration.
Interested to know how you worked that out @JibberJim
I have to say I didn't feel that thirsty at the end so you may well be right
Not much eaten along the route apart from a mint magnum after 10 miles