might appeal to a few looking for something a bit different
I'd happily enter a long race like that … but not just round and round the same track. Not for me.
18 hours will be a bit tight for a lot of people though!!!
edit - it's not that much further actually. 1.2km more on the swim, 20k more on the bike and <8km more on the run. So sounds worse than it is.
Yes, that would get a bit soul destroying. Running 11 laps on Sunday was enough for me!
Would be a quick bike course though
Same problem as Daytona though (well worse actually) in being stuck in aero all that time. You'd have to back off your power a fair bit if you wanted to have any remnants of a hamstring left for the run!!!
that's part of the idea - try to get a bunch of quicker athletes to sign up and not just those looking for a finish.
but not just round and round the same track. Not for me.
for some that will be part of the challenge - more mental than physical
Just seen @Matthew_Spooner crapping on their longest race in the world claim on Facebook

£360 cor the entry too!!
Well if they make such a claim, they really need to back it up.
Would love to see their faces when they google triverest
Longest race in the world except triverest and er, maybe some others
but doesn't Triverest have a 29hr cutoff so technically not a "single day" triathlon?? hard to claim it is with that cutoff even though many will finish inside 24hrs.
EDIT: event home page says a 29hr cutoff, but FAQ says 26hrs.
It's basically a badly measured Ironman!
Aren't most?

Not exactly 200km around the Nurburgring is it. 52 laps

I'm out.
Yeah, same. I looked earlier. I was wondering if had been subtly deleted!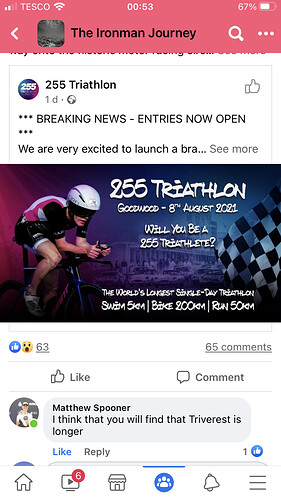 Like @fatbuddha did an org has replied stating there are many longer triathlons but none of them are single day events
I don't really get it, an uninspiring event with no redeeming features except they made it a bit longer than an Ironman. Surely doing an extreme X or Brutal is actually harder and more entertaining.
If they want to go "longest" then make it as long as possible in a day, 10k swim, 300k bike and 84k run , 24hrs cut off…Go.
semantics, OK, Triverest has a cutoff of 26 hours, however, almost all people finished within 24 hours. The only vaguely interesting element to the 255 Triathlon is the 5km swim, otherwise it doesn't look any tougher than most ironman events.
Fully agree with everything you have just said.
Yep. Spot on @Hammerer