That does seem a pretty decent deal

Im still happy with my saris - had 1 bearing/pulley wheel issue - but that got resolved last May and its been faultless since.
Really happy with it.
Make sure you get the bonus wattage model that @fruit_thief got!
I can definitely vouch for @mw22 gym fitting service though, he has kitted me out properly with his recommendations.
PS I think he went for the model with 15second turbo boost mode option instead
Is that so you can go sledging whilst turboing?
@Doonhamer to answer your question, I am super happy with the saris. It does everything I hoped it would, is quiet and fun to ride, and worked straight out of the box.
I was indeed looking at a kickr core but the Saris was a bit cheaper, also DC rainmaker review persuaded me Saris was maybe a bit more substantial, dont know if that's right though. Also I liked the bit about transmitting cadence and power and controllable on the same Bluetooth channel , I am not sure if kickr does this or uses 2. Its an issue if you want to use with a heart rate monitor and an Apple TV, the Apple TV only has 2 Bluetooth channels (+1 for the remote) so the saris works well. But maybe this is true of other trainers too, I don't know.
Plus of course @mw22 said so, and he is a 6th dan sandbagger so worth listening too

PS Saris gets its name from the founders of the business: SArah and chRIS
That's ridiculous! You're effectively getting one of the items for free. I know the H3 has come down a lot in price over the past year or so, but it's a top tier trainer. And Halfords are still listing the MP1 by itself at £850!
The MP1 is easily worth a try at only a c£100 premium on the base trainer (which I also love)
Well I pulled the trigger on the H3/MP1 bundle & picked it up last night

.
That MP1 is a helluva lump. When I popped into Halfords to pick it up the fella initially looked under the counter for it & I felt obliged to tell him it might not be there

. I've got a Skoda Yeti, so not a small car but had to take 2 of the rear seats out & slide/wind the passenger seat as far forward as it would go. I would never have got anyone else in & was glad my son was at the other end to help me get it out.
After unpacking & putting in place we both had to jump on it & practise

I then strapped the H3 to it, connected my bike to the H3, updated my ATV, Zwift - I got a free 30 days on both Zwift & Rouvy - & downoaded the Saris App.
This is where I start to get a bit lost

I can control the H3 from the Saris App, so calibrated it… solid blue light


Can't pair H3 to either ATV or Zwift Companion App…flashing blue light.

Could someone run through the order in which they set up their outfit please?..ie when turbo is turned on/when do I start pedalling/ is phone in airplane mode/ what lights are flashing?
I'll be swimming tonight, but hope to have another play with the turbo tomorrow - Thursday - night.
Cheers people.
Remember if it's bluetooth you only have one connection, so you'll need to remove the Saris app before connecting anything else.
Yeah that sounds right.
The saris needs to not be connected to anything else.
Then turn on the Apple TV, fire up Zwift
You get this
Choose power source, wake it up, you get this. I hadn't actually woken up the saris yet by spinning a pedal.
Click hammer
Thunderbirds are go.
Next time you log in with the turbo awake it should all just happen automatically, at least it does here

I can check the lights later - but first thing I do is just crank the pedal arm half a turn to wake it up then start pairing. It does go to sleep after about 20 minutes
Yeah, once set up for the first time then if you wake up the trainer first the sequence is just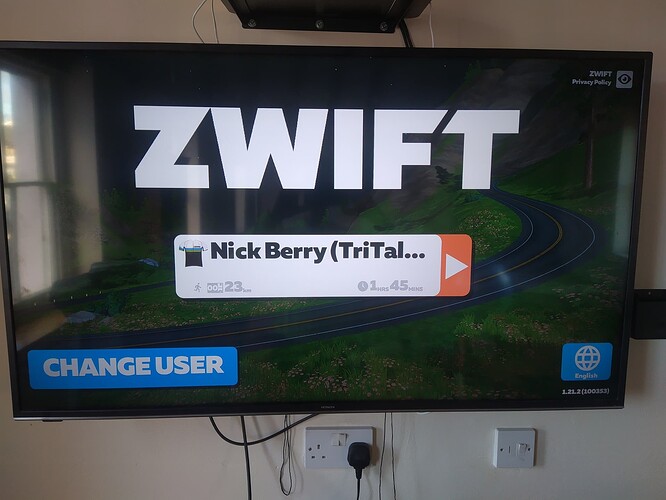 Click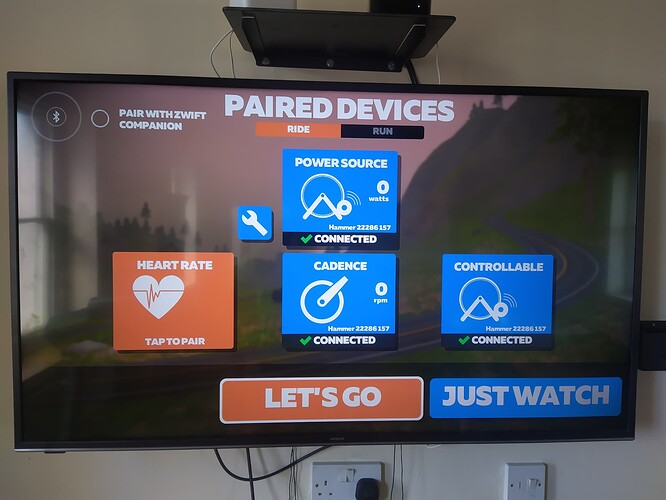 Click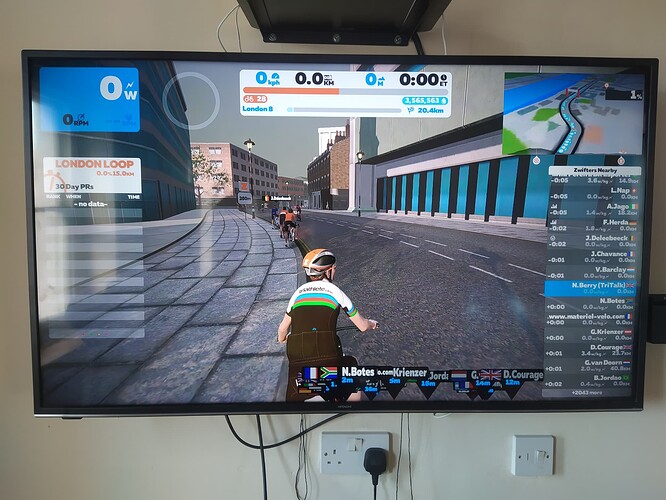 Love how simple it is, and fast- a few seconds. Means you can decide to enter a race at 11.55 , get changed , fill up a water bottle and be in the start pen before 12.00…
Edit, maybe that's normal

but my laptop used to take 5+ minutes to load up & connection was shaky at best
Well yes there's that

That is exactly the sort of tutorial I was hoping for, many thanks @fruit_thief
Tried all above & still a flashing green light☹
Deleted & reinstalled Zwift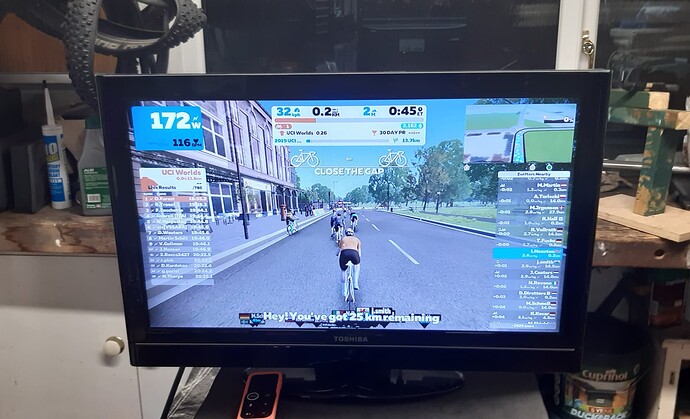 Ride On

Off swimming now, it's paid for
Bring on the TTT's!

Having raved about apple tv yesterday, I had dropouts this evening

Jumped onto a random race straight after work, was all good until 5 minutes in ,the numbers went to zero then blank & I slowed to the stop of doom, never to return to the group.
Re-paired and then decided to do 10* (1 min on, 1 min off) then call it a day. Had 2 more dropouts while doing that too

Think it might have been because I didn't log out after taking those screenshots yesterday, I was still in the same game screen when turned TV on this evening, maybe that makes the connection unstable? Dunno. Normally rock solid, hope it's a one off

I was just looking at the new Kickr Rollr and thought "£699? that doesn't sound too bad as an alternative to a smart trainer", but then reading on you need to combine it with a separate power meter, so if you haven't got one already and bundle it up with a set of Powerlink pedals you're up to £1,200

My "sprint" is about 400W & I'm all over the bike to produce that at the end of a Zwift race. That Rollr - held on by the front wheel - doesn't look able to handle even my 68kg

ETA…Just read the Rainmaker review, he's considerably heftier than me & reckons it's solid.