Ah. That's the old TT style

Nicely shaved legs, but the stubble on the face must be costing you 0.01W at least.
Impressed with the aero haircut that lines up perfectly with the neck line on skin suit
But the biggest issue is your number: Nice Aero position, nice skin suit, nice shoe covers, aero helmet, aero gloves… then a big flappy, draggy bit of paper strapped to your back
'No gloves' tests faster. No-one wears them on the track for Pursuit/Hour.
I have a bnib NoPinz number belt/pouch/velcro thing that I'll happily sell for half new price.
No, it's great, I use one on every event, just that I have a spare one somehow
He just needs the funds towards some Vaporflys

It was hailing when I started that TT, so I wore the gloves I'd rode the 10k down there in.
I rarely ride with gloves.
Cheers for the comments, @Matthew_Spooner.
I like the photos from that day, as I do look quite good!
I like matching kit, but also like club colours.
Those Velotoze have gone back as they've been worn about half a dozen times and are coming to bits totally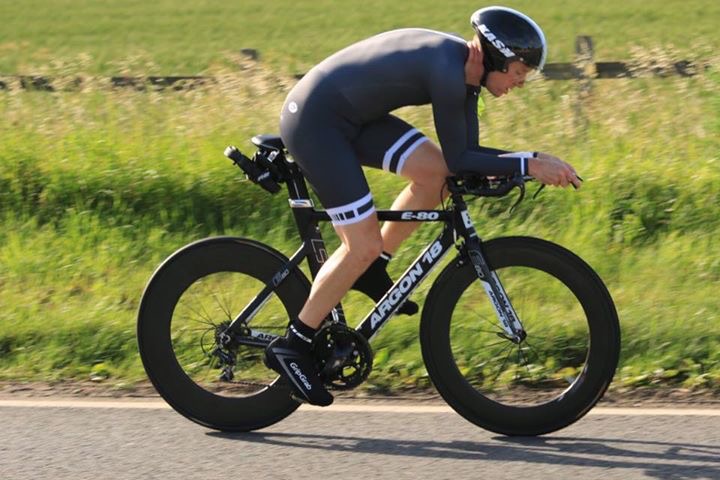 I think my position is quite similar to Poet's. Ideally, I'd like to get my back flatter which would mean the seat going back and me getting a lot more core strength. There's too big a gap between the back of my helmet and back. I actually think going back to a Bell Javelin would be faster. I've put Selcof bars on since this picture was taken. Also now have a Corima rear disc.
Lose about 5cm of spacers

Yeah, but, your arse isn't as big. Your fat thighs aren't bulging out of your kit and your ribs are clearly visible.
That monochrome colour scheme also looks the nuts
But Poet, he doesn't have your big ring
I also returned those GripGrab overshoes as they only lasted three months.
You also appear to be looking down at your powers meter there, maybe why the head is tilted slightly down?
I liked the earlier "turtle" comment.
I enjoy visualisation and imagining what I want to look like/be, then going out and being it.
How do I quote you on my Big ring?
He has Rotor Q-Rings by the looks of it.
My 55-11 set up barely gets below the 14 rear cog. Even downhill with a tailwind.
Probably best not to mention Wheezy's Javelin in the same sentence
From stuff I have been reading recently, a 55 14 combination saves a 2-3 watts in efficiency over a 52 11 highest gear
You need blue kit, or a red bike.
TT1.0 knew that red was faster. Think infrared and the red light spectrum.
Scientifically faster. You know it makes sense.
I do like your anti-draft missile. Have you ever deployed it?
New bar tape for race day? I used to enjoy that ritual, too.
I don't have bar tape on these bars, as they have some weird texture on them, which is quite grippy.
Here's one of me at the Club 10TT during the week.
Complete with my triathlon bottle, spares kit and training wheels.
I put the saddle up after this TT.
To be fair, I think the frame is probably a little too small for me, but I find the XL too large.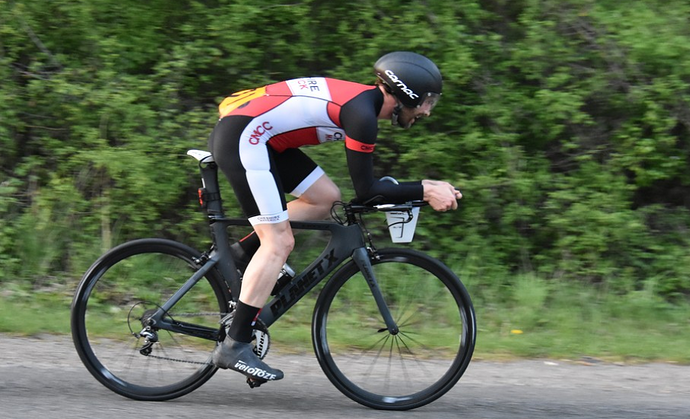 There are a lot of what I would call 'barn door' positions there