So I thought I'd start a thread for my stupid ideas that are coming up over the next 5 weeks.
Hopefully the hive mind can help me bounce ideas off to try and achieve best outcome.
Little background.
In 2018 I was going to attempt the GWR for fastest marathon dressed as a zombie as it's one of the characters I do. Record was 3:17, so doable.
About 4 weeks out I got injured and couldn't run.
Record then got lowered at London to 2:43, so out of my reach.
Then I got into the VLM for 2020 and the hunt was on for a new record.
All the costumes I currently do all had records that were way too fast, so decided to go down the list to find one that suited.
Needed to have a reasonable time and a reasonable costume that covered my face (long story)
After scrolling through the GWR site, I found my answer.
Ninja - 4:17 - you can find the video on YouTube.
Sent my application off to Guinness and then I found out why the time was "soft"
You have to wear the Ninja Tabis
Undeterred, I bought myself an outfit in early 2020 and after getting some more robust Tabis took it out for a couple of Parkruns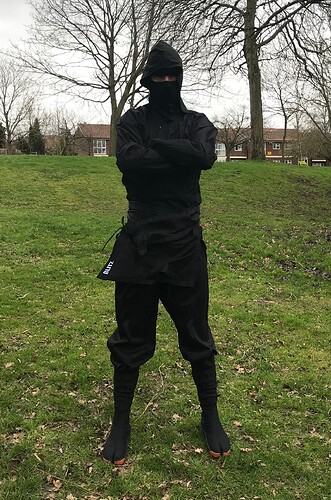 Then there was little thing happened and the world went on pause.
During this time I did a lot of running and the VLM was rescheduled to Oct.
Guinness got in touch and said they weren't sure if they would be doing record attempts for the Virtual VLM - the website says it has to be an official event.
Didn't bother with the virtual VLM
Second lockdown came and did more running.
Feb 2021 and the notification came through that I was in for Oct
Onto the GWR site to reapply for the record….
Turns out they let a guy in Cambridge do an attempt at the virtual and he's lowered it to 3:54.
You can find it on Strava.
Was at this point I found out that there was also a Half Marathon record and I was eyeing up events in November at Dorney.
Then I noticed my local HM was 3 weeks before London.
Mad scramble to get the application to Guinness, but was in.
So after a crappy year of races - MK Marathon and not going to Frankfurt - here we are.