Just a heads up. Cardinal chunder and going backwards fast - needs 4th for KQ.
No way!
Is it on Facebook live?
Yep, all that talk of the Jan challenge, if he blows this he's got to find another race to KQ.
Goodness - I genuinely thought he was in form
I've got it now.
Good to see Fanella Langridge in 2nd
Temp is supposed to be about 35c, probably quite cool for Jorgan, he'd need a long sleeve top on

Plenty of helpful comments for LIONel, if only he followed IMJ!
Commentary team just claimed it was 39 degrees
They need me over there!
She was leading. I hope she does well, it's her first IM according to her brother.
Think she's back in front after 13 miles?
Idaho looks quite nice.
If he cocks it up he could go to Bolton next week and get paced off poet!
Info saying Langridge in the lead by 8 seconds. No mention from the commentary or any footage?
Just watching Sam Long sweat his nuts off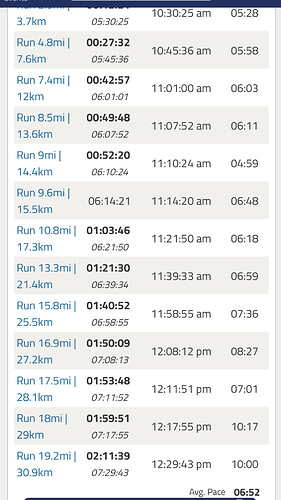 Lionel's run splits. Think he should pull the plug and increase his chances of going again this season.
There's no way he'll KQ now, so agree. Stop now and fight another day.
oh dear, doing so well though, first IM!
He could with those splits.
They look like my Outlaw ones…
…from 2010, 2011, 2012 and 2019


It's like I never learn

Long and Metzler are pretty big units and impressive time considering the conditions
11:48 miling for Lionel's latest split. Still over 4 miles to go.
It sounds remarkably like my race in Cozumel……
Good to see the big guys doing it