Discuss event nutrition here. What to take, when to take it, and how to carry it with you.
For storage I settled on XLab stuff after trying a few options. I went with the Torpedo on the front and Super Wing on the back for bottle. Very good kit and suited me perfectly. Also have an Xlab bento bag for bars.
Personally I prefer bars and liquid on the bike. Gels are a pain and I end up with sticky handle bars. Gels are ok on the run, I tuck the wrappers under my tri suit leg.
Torhans Aero30 for me between the bars. That is full of PH1500 fluids.
I then have an xlab stealth pocket 400XT on the top tube. Filled with cut up bars, flapjack and chews.
Double bottle cage behind the saddle. One just has tools, the other another 500ml bottle of PH1500. This replenishes the torhans once that is consumed.
The c1.3 litres is enough for me on a 70.3. On a full, I had a PH1500 tablet in the side pocket of the xlab, which I dropped in and mixed with water collected on course. That was good for another 500ml.
"If you haven't peed in the first ninety minutes you're already behind on your hydration"

I didn't pee on the bike all of Copenhagen. I did need to go for probably the last hour, but even having practiced just couldnt. Spent 30s in the portaloo in T2, as I really didnt want drenched socks from km0 on the run!
It's such a glamorous sport.
Erm…I'd forgot I need to eat on the bike!
Whoops.
Just read the High5 nutrition guide (it's worked for me in the past)
A few bars in the back pocket would survive the swim, right?
Or perhaps elastic banded to the bars, then take them off and stow them during the ride?
My practise ride might be cancelled this weekend

I would get some top tube storage. So much easier and less stress. From the bike fit thread you started, your bike would probably gain aerodynamically from "filling" the gap behind the stem as well.
Cannot be done, due to where the wires enter the downtube.
Although I'm not averse to a little bit of cutting, spending £20 on a bento box only to rip it up just ain't cricket!
How does cables into the downtube stop you using a bento on the top tube?
OK, so maybe you can't get it flush to the back of the stem, but seeing as I have no raised stem at all, you could still use something like the xlab stealth pocket 400 to have top tube storage behind the cable entry?
Taking a basic image from google to show what I mean…

That pains my eyes.
My bike is nowhere in that league, but strapping that awful bento box to that frame is a travesty.
I'm all for things looking nice, but ultimately long course comes down to practicalities. I find an unwillingness to deal with a slightly suboptimal "look" a confusing mindset.
I don't think it looks too bad.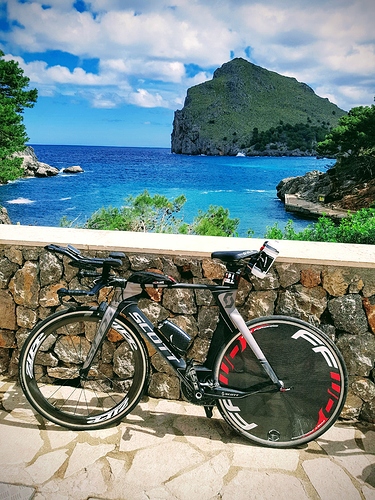 (yes, I know I have the bike the wrong way around, and the crank not at 3/9 o'clock!)
EDIT - Bit more of a close up I just found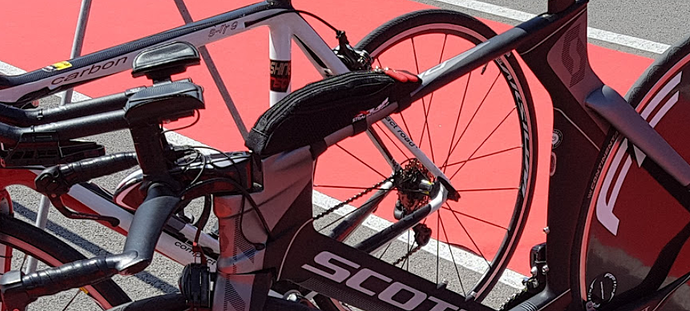 What's the light for?
I have mine on for TTs and when riding solo, same one.
I think they look really good and like how they "snap" to the aero seatpost.
The first image is from a ride after the Mallorca race last year where a few of us descended and climbed Sa Calobra a couple of days later. I always ride on open roads with a rear light. Not whilst racing though.
Cheers @stenard
A clubmate got a nice Canyon Speedmax, with all the little rubber boxes and stuff.
It looks amazing when it's all integrated.
But, I do get you; I probably need a bento box, however garbage it looks.
I've tried to zip tie a cage behind the saddle, but it doesn't work due to the placement of the saddle.
Aid station smash and grab might be in order
What do you eat in the last couple of days to avoid a break in the toilets on race day?
I have only had to use the toilet once in a race, however, in training this season, I find that my runs often need to include a quick comfort break in order to avoid the situation highlighted in the ST thread last week.
What do you do to avoid this?
I have a regular BTA bottle for water/aid station throw downs. I was considering an aero bottle on the down tube but came to the conclusion not to use for LC tri. I have all my gels in one bottle on the down tube but have a back up bottle in special needs with half the amount again, just in case disaster strikes
How can you be behind on your hydration? Either you are thirsty and need a drink or you don't.
XLab Torpedo upfront with regular refills of water (top up ever aid station on LD racing…)
Additional bottle with Nuun on downtube if hot with extra tablets in Rocket Pocket…
Never been too pleased with the Rocket Pocket - too small for any more than one gel flask, an emergency nak'd bar and a handful of salt and vinegar hula hoops…
2 - 4 mini calzones in back pocket for medium to LD racing…