80kg
19% body fat
62kg muscle mass
Once a week weigh ins for me. Gradual drop from 76 to 72.0kg over last couple months. Not needed as major dedication as expected, just eating more savoury and non-processed foods, especially fats and proteins and found less tempted to eat the rubbish.
At 181cm I'm happy with that. Scales estimate 11 down to 9% BF for what that's worth. If more falls off with training then so be it but won't be chasing getting as light as possible at risk of losing strength.
72-73 Kg @ 184cm & around 11% BF, happy with that for the time being but plan to drop to 70 for Austria.
You guys measure every day & plot in excel right?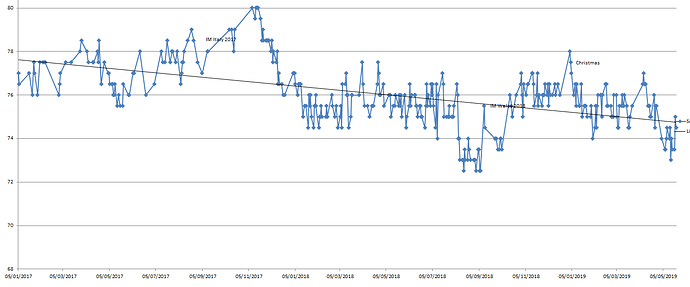 (+2.5 Kg measured at work with steel safety shoes)
67.8 kg…
Progress at last

Up a Kilo due to same calorie consumption while tapering, not helped by an off site meeting and large dinner yesterday
75 kg.
My own fault, eat great during the week, it all goes to pot at the weekends.
Put a bit on whilst on holiday around Easter but back down to 68.2 (169cm), I'm really muscly though and that weighs sooo much more than the flab around my mid-drift. Heading in the right direction though and aiming to be 65.XX by the time the Outlaw comes around.
ETA: Of course it goes into Excel!
71.8 after my 22km run home, and I drank 500ml of potion en route!
I may have collapsed running that distance here.
It's bloody warm.
Like Outlaw 2013 warm

Yeah warm here too. My top was really heavy with sweat when I took it off. Although it was during your hiatus that I became an expert in hot conditions at Frankfurt
Your long runs are incredibly quick - how are the legs today? Ready for a double bike commute and swim?
…and you won't go cycling if rain is forecast; not exactly Action Man are you

Legs are fine thanks, no soreness descending the stairs or anything… the training adaptation is taking effect

My run home is always a long drag up to the village too, so whilst that might be a good simulation of the end of a event (suffering wise), it does push my HR up a little.
Weigh in this morning - first time under 79kg in a very long time. Still ticking in the right direction.
Sorry for the pounds - just easier for My Fitness Pal
177lbs yesterday after my 72km 35kmh Ride
176lbs this morning after a jog with the dog
I have a theory why it's not coming off quicker…
…I just had a flapjack that contained 494 calories!!!
It was gone in three bites
Ooo yeah can't beat a good garage flapjack… on a 400k Audax

I've been eating like I'm still training since Lanza and yet I'm 2kg down from race day at 78kg
———4days later———
Back to 80kg but my lowest ever BF at 18%