Well. Let's have it then.

What are we talking?
25 min + 2.45 + 1.45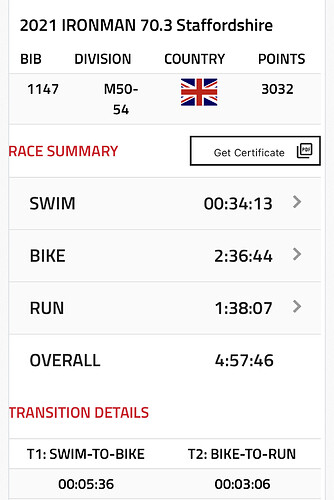 Job's a good 'un. And it was about 15 x hotter than @Jorgan s Frankfurt and that hot Outlaw that everyone bangs on about.
Do I win £5?

So I was browsing Coachcox when I saw Jeff's post.
These are the first 3 under 5hrs in M45-49 in 2019
| | Swim | Bike | Run |
| --- | --- | --- | --- |
| Staffs 70.3 Median 5h57m | 33m | 2h 37m | 1h 37m |
| | 33m | 2h 36m | 1h 41m |
| | 36m | 2h 36m | 1h 38m |
| Barca 70.3 Median | 33m | 2h 52m | 1h 28m |
| | 30m | 2h 42m | 1h 38m |
| | 30m | 2h 40m | 1h 40m |
| Kraichgau 70.3 Median 5h 53m | 34m | 2h 29m | 1h 41m |
| | 29m | 2h 41m | 1h 29m |
| | 36m | 2h 34m | 1h 44m |
Personally, well we all know I'm shit at running so it's all fantasy for now.
I already did 2h40 for 90km at IM Barcelona with two hard stops faffing, and I fancy my swim so I'm thinking 30m + 2h30m then I have a mountain to climb or an Uber to call for a 1h50m run. Then it's down to transitions to squeeze in at 4h59m59s

Did you get lost on the swim?
Rofl, not for me.
I'm going to start training for 35 / 2.35 / 1.40 with 10 mins for transition/slippage
Ah yes, Staffordshire: twinned with Riyadh.
Staffs is also quite rolling (bike and run) with an awful surface, so it's a slow course.
Your best off doing one of them small middle distance with a 85km bike and 20km run.
Went sub-5 on my first attempt. Then again a week later, as I liked it so much

(Bala and beaulieu c2008)
27/2:40/1:45 (current assisted river swim, flat bike, off road run)
43/2:35:1:35 (lake swim, 82km bike hilly, 20km pit and back run with a small hill at the turn)
I then went sub-2:30 n my first Oly a fortnight after that.(Chester deva, still got the buff)
that'd be roughly my plan too….
2018 Rapperswil 37, 2:35, 1:42 (5:00)
2019 St Polten: 37, 2:30, 1,31 (4:45)
2019 Elsinore 33. 2:16, 1:31 (4:28)
Elsinore is a very fast course, St Polten was a fantastic race (Now Challenge St Polten)
waits for someone with a sub 5 at Wimbleball
(5 attempts, didn't get within 15 minutes on any of them)
Currently thinking about Challenge Salou on 3 April… looks like a super fast course
I only have one HIM that's over 5h, that was the Immortal Half in 2015. But that had a 14 mi run, and a very long uphill run to T1.
Difficult to identify a PB, as a lot of the courses are a bit inaccurate. Best of 3 goes at St Polten was 4:39, and a 4:20 at 113 on the old 85km bike course.
All other things being equal, anyone have an idea of the difference in wattage between 2h40 and 2h30? If that's 34->36kph, I don't think the air resistance goes exponential yet iirc.
Probably a few too many variables there - road surface, wind, aero, weight, course profile etc
You forgot paceline/sling shot/drafting too …and the power of the crowd.
But 'in a vacuum' it will be a significant chunk of watts at that speed.