Finally made L50 of Zwift
Well done, but I've no idea what those paces mean in reality


Woke up this am on the couch with an unfinished drink
Training today? Could barely walk to the van

Post of the day … nothing comes close!
Did you finish the drink?
Righted a few wrongs from Fridays ride, felt so much better and stronger today (being able to hide behind someone has its advantages)
65kms to Windsor and back, glorious sunshine and plenty of 'smashy' bits.
I did however, put my bibs on inside out again (must be the fourth time I've done this now

)
Two bloody coffee stops though was unacceptable !!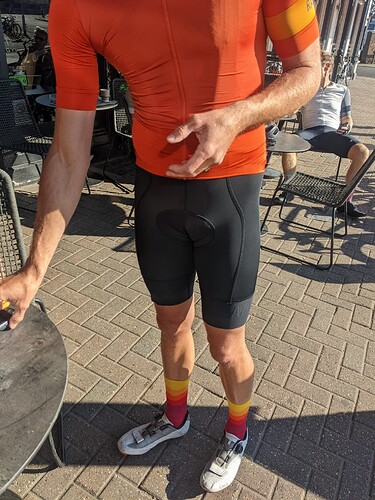 Can't be bothered to run later but might have an easy spin on the turbo once it's cooled down and do todays run tomorrow morning!
That makes 11h 13m for the week and I think the biggest of the year so far. Want to keep that sort of volume up.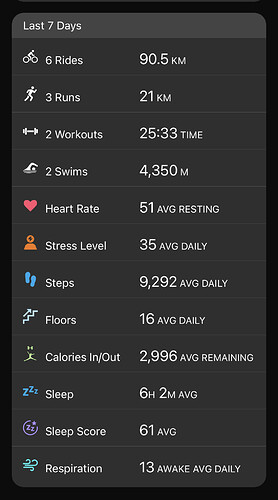 2.5k open water swim. 47 minutes so not too bad. Nice morning for it

Despite a good sleep last night I'm feeling pretty tired today so I doubt I'll do the short plod I'd planned.
Finished yesterday feeling quite good and could have continued for a bit longer but I think that was a mixture of caffeine and adrenaline

Will watch some of the full IM instead
Glad to know I'm not the only one who's done this! Are they Rapha by any chance?
Edit… i see now that they are, mine are the only ones I've done it with.
Yeah I have previous with doing this. Only this time is the first someone else has noticed!!
@Adam, when did you notice number 1?
Part way through, and if so did you change at that point, or style it out and ride that way the whole way round?
Anyway I did a gentle 20km pootle on the bike first thing.
I didn't

Was told at the first coffee stop, which is where I basically start my ride from - the guy who told me was too kind. If it were me I'd of pointed it out 30 minutes in whilst in the middle of nowhere!
Early doors 80km ride with a mate this morning. So much colder at 5am now. Fingers and toes were freezing for the first 2 hrs.
Looks like my lack of training/any real exercise and my gluttony of the past few weeks has finally come to rest. Fitness has dropped through the floor.
Just had no juice in the legs at all. Last hour, any 'hill' (lump or rise) over a few percent felt like a blimmin mountain!

To be expected though really. Surprised I lasted this long!
Almost 26km with Mrs T and Oska
Hit the hills this week with 547m of gain - 2405 cals
Have done this same route an hour quicker on my own but do prefer spending some good quality time with Mrs T. Weather was spot on - 20 degrees light wind and sunshine all the way.
Shame I need to go and do a few hours of work now

Double run day and 80km on Zwift around Innsbruck worlds course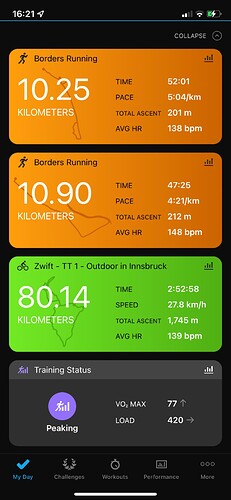 I think I will be asleep in the cinema tonight
had a brilliant double run day totalling 25km 798m gain.
Did that ride I sent you today (ish!)
Headwind all the way up Holme Moss was utterly brutal.
Going up Skye Road and down to Holmfirth with a tailwind was incredible

168bpm for 20mins on the old ticker.
Showing just how unfit I am, that's an all time record.
But nada for power

4 minutes slower up Holme Moss than two years ago.
1:37 slower up Skye Road.
Seeing as I'm 2 stone heavier, can't be unhappy with that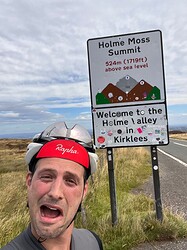 Stats?
110km, 4hrs, 232W NP, 1471m climbed

I've got 10+hrs training in this week & really should be going to a swim this evening but Laura & Eilish are running during it so that may not happen

.