I wore my VF4% Flyknits to a resounding 2k victory as part of our Fitness Test at the weekend

Yeah. It does seem weird!
Although, it's a bit like Mac users being charged more on Expedia/LastMinute

"You use The App. You're well posh innit. Here's some expensive shoes."
Shameless Quidco plug again!
There's an offer on today (you have to opt in to the bonus!) of £25 boost when you spend over £75 on Nike. You can combine this with the 25% off full price which means you could get as much as 50% off (if cost £100)
In addition for people who havnt Quidco before here's a referral link where both you and I can get an extra £15:
so you saying we can get a £100 pair of shoes for £35?
No its even less because you get 6% cash back as well and I reckon I could go better than that
Shoes £100
25% off £75
8% e-voucher £69
1% credit car cash back £0.69
Cashback boost £25
6% cash back £4.50
Referral credit £15
Total cost £23.81
This blows my mind.
I have zero inclination to do this.
I'd just spend £100


Same, bizarre coming from Yorkshiremen

Think I may have missed out on the bonus, couldn't see that, but signed up under your link.
They have original Alphaflys for 29% off and then the additional 25% off, so £142
Just bought in the same colourway I already had so hopefully the wife wont notice!
Thanks mate and nice steal

You guys must have very small or very large feet
, can't find anything discounted in my size.
Additional 25% off too - picked up a pair ofMk1 alphaflys for £144
With that 25% VF2 are £118. That's the cheapest in years iirc.
Argh. I went early two months ago to get cheap shoes now can get streakfly at £75 and Pegasus 40 at £63. Ah well.
Just went vaporfly fishing with @itom150 's link
unfortunately none in my size, but for anyone with slightly more dainty feet (or massive feet) it would be a bargain
£164 *0.75 = £123, *0.92= £113, -£15= £98
that's for 2 shoes as well
there are some alphaflys in size 10 for just a few quid more, hovered over the buy button. but it's the vaporflys I'm after. Will keep eyes peeled - thanks boss
I went back and added another pair for the Alphafly Mk1 bank

. That's three new pairs in stock - I should maybe inform my house insurers of my collection

Luckily some Vaporfly 2 in my size were still available last night got them and a pair to peg trail 4s on a nice discount.
AF3 appears on Nike. Looks like the weight has gone back down probably below the AF1 weight which can only be a good thing considering it got fat on the 2nd edition. My size 13 Uk were 300 and 330 g for AF1 and 2 and this is saying 218 vs 249 3 to 2 so guessing they will come out under 300 for me!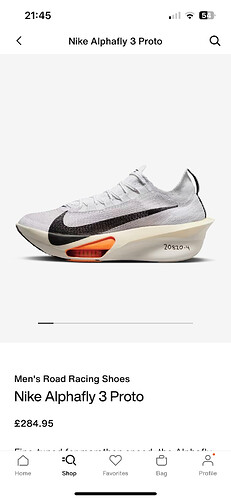 over £1 per gram

I put a claim in last night as it didn't track.