I'm also DNS for similar reasons.
If anyone needs a parking permit for the weekend ping me a message.
I haven't swUm since Bolton 70.3 in Sept.
So I am thinking about a pool sw1m on Monday. Maybe a bit too much too soon tho?

Parking Permit

cheers Marky

Hour's pool Sw1m Done. There endeth sw1m training before tri season takes its course. I probably overdid it, Tsk!

Looking

for the weekend

What's the forecast looking like guys?
It's shite down here (London/Surrey)
Shit on Sunday.
Nice on Saturday.
Why?
You bringing 2019 weather for @pacha again?
Not my fault this time!!

I was seeing who was about for a ride this weekend and then realised it's pissing it down here
@pacha gonna get those new wheels filthy

Haha yeah that's me

If it's wet I am going with my alu rimmed mavics.
IIRC last time I did the Outlaw Half it was about 22C when I finished and got up to 24C for the day. Perfect triathlon weather
ETA: Oh and I reckon my Perfetto gilet will be used on Sunday
Wore mine last year and the rain fortunately never came
I think that is perfetto gilet weather for sure
Anyone tracking this and got numbers? Chris, Pedro, TC, Adam?
Not me, I'm enjoying a lie in!
@pacha with a 39:19 swim
@TROSaracen 34:12 swim / 2:30 bike and on the run
@Toyota_Crown 44 minute swim
Their website is painfully slow though
Sleep in sounds good

Chris tearing it up there then!
Must be a good day for it. Just looked through the top 10 in M35. Some rapid bike times 2:11, 2:13 etc
That's bloody rapid on UK roads!
Sean Burkes done a 2:11:52.
Yeah, that's so bloody quick for that course!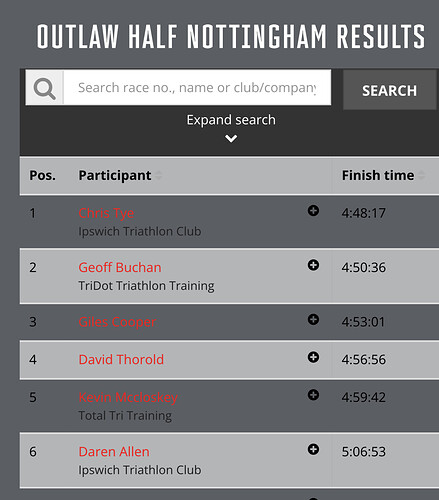 Happy days!
Met @pacha who also finished well.