Am
15 mins core
15 mins 100 kg leg press
10 per min in the min
15 mins 6 pull ups on the min (90 total )
15 mins stretch / ankle physio stuff
Pm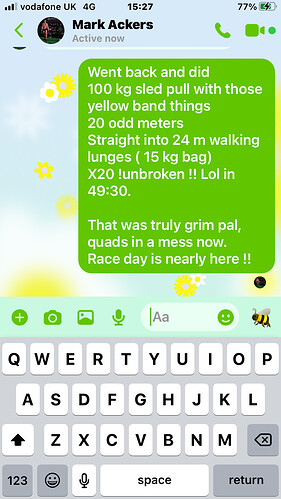 Evening
300 hr press ups in 30 mins watching fight disciples
Happy Monday !

10km night road run, 61mins. Started dry, finished very wet!
7.2km run first thing.
31 minutes. 90m elevation.
Boxing early ( for me ) AM
3 k swim ( 58:12) PM
need a rest day
6.7km treadmill tempo run. 3x 7mins at 5:09/km hr max 165
Monday: Easy 8km run at lunch
Tuesday: 6km run to track, then 6 x (800m + 1 min rest + 200m) with 3 mins rest
Felt really good, much better than last week, started with a 2:50 and progressed up to 2:34 for the last 800m rep
My training today is very hard
Spin bike 2 min max and 2 min rec is very hot today and sensibility fatigue
3mi run today is very hard

6km sore throat run this morning, sweating it out. Set off with 10km in mind but quickly thought better of it.
Did get round to entering the 2nd race of the national sprint tri series though - 1st December, sea swim, non wetsuit. Sea temp is still 27C but dropping.
Still warm enough for sharks

though

6km easy run at lunch. 32.31 at 5.25 pace
21min utility jog. Thought I had plenty of sleep last night but feel terrible.
7.2km lumpy run.
30 minutes. 90m elevation.